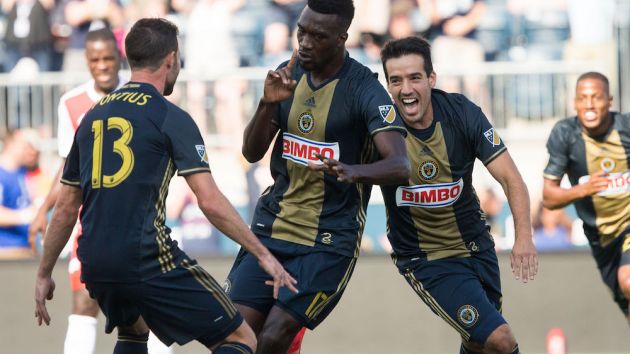 The Philadelphia Union of Major League Soccer (MLS) have renewed their local broadcast partnership with 6abc, and entered into a new agreement with PHL17.
As the flagship TV home of the Union, PHL17 will broadcast the majority of the team's matches, while 6abc will air a select number of fixtures and produce all telecasts.
While terms of the deals have not been disclosed, the exact number of games shown by each channel will be determined when MLS unveils its full 2018 schedule in January.
A Union statement said the agreements means the team's games will now be available to 32 per cent more residents in the Greater Philadelphia region.
Union games previously aired on Comcast's NBC Sports Philadelphia as well as 6abc, which has been a partner of the team since their inaugural season in 2010.
"This partnership with PHL17 and 6abc is great news for Philadelphia Union fans," said Tim McDermott, the Union's chief business officer.
"Improving our reach and distribution is a priority for us as we aim to make the Union more accessible to our great supporters across the region. We believe we have created arguably the best broadcast partnership in MLS with this announcement."
Bernie Prazenica, 6abc's president and general manager, added: "As a founding partner with the Union, we're delighted to play a part in the evolution of its media expansion within the Philadelphia television market.
"We think this is great news for the passionate Union fan base, and we're excited to see the club rise to new heights in 2018."
The Union finished eighth in the MLS Eastern Conference last season, missing out on a playoff berth by eight points.