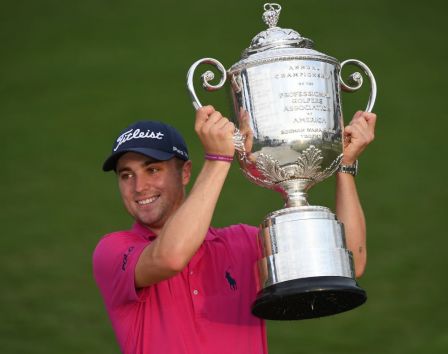 The PGA Tour has confirmed the details of its much-changed playing schedule for next season, with a revamped calendar of events designed to avoid clashing with the National Football League (NFL).
The leading North American professional golfing circuit will feature 46 tournaments, with many existing competitions being moved to different points of the year to ensure the season finishes before September, when the NFL takes over the US sporting calendar.
The latest major revelation is that the FedEx Cup Playoffs will only feature three events. Historically, players have competed over four final tournaments for the US$35 million prize fund, with only the top 30 players in the FedEx Cup rankings competing in the last competition – the Tour Championship. However, from now on TPC Boston and New York City will rotate annually for the right to host The Northern Trust playoff – the first of the three.
Jay Monahan, commissioner of the PGA Tour, said: "It's been our stated objective for several years to create better sequencing of our tournaments that golf fans around the world can engage in from start to finish.
"By concluding at the end of August, the FedExCup Playoffs no longer have the challenge of sharing the stage with college and professional football. This will enhance the visibility of the FedExCup Playoffs and overall fan engagement with the PGA Tour and the game as a whole."
Other significant changes to the schedule see existing tournaments being shifted to other parts of the year and two new events added.
The PGA Championship – one of golf's four majors – will fill the May slot left by the Players Championship, moving from August. The Players Championship will now take place in March. This shift leaves Britain's The Open Championship as the year's final major, taking place from 18th to 21st July.
Similarly, the final World Golf Championship tournament of the season will be held in Memphis in late July. It had previously taken place in Akron, Ohio. The Houston Open and the Greenbrier Classic will take place in the autumn rather than July, as they had previously.
The RBC Canadian Open is being pushed forward from July to June, and will be held at Hamilton Golf and Country Club, Ontario. Its new timing means that it will lead into the US Open.
Finally, the Puerto Rico Open returns to the competition schedule, having been cancelled in 2018 because of the destruction caused by Hurricane Maria. It will take place on 18-24 February.
The new tournaments on the calendar are the Rocket Mortgage Classic, Detroit, which will take place from 24th to 30th June; and the 3M Open at TPC Twin Cities in Blaine, Minnesota will be held from 1st to 7th July.