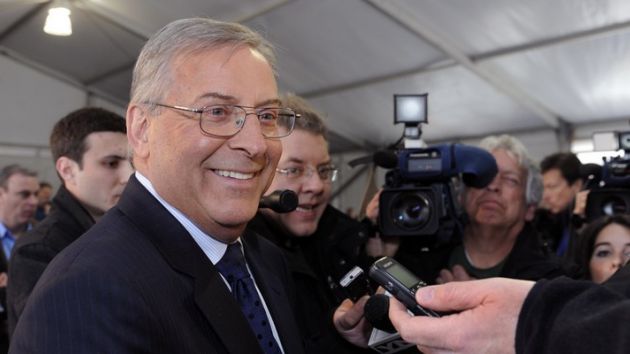 Pegula Sports and Entertainment has added the Buffalo Beauts of the National Women's Hockey League (NWHL) to its portfolio of assets.
The company, which is led by billionaire Terry Pegula (pictured) and his wife Kim, announced the acquisition on Thursday. Terms of the deal have not been disclosed.
A founding member of the four-team NWHL, North America's first professional ice hockey competition for women, upon its creation in 2015, the Beauts were previously controlled by the league office.
Pegula Sports and Entertainment is already the owner of the Beauts' home rink, the HarborCenter in Buffalo, and is also the parent company of the Buffalo Sabres National Hockey League (NHL) team and the Buffalo Bills of the National Football League (NFL).
"We want to contribute to the growth of women's hockey," Kim Pegula said in a statement. "HarborCenter has allowed us to make a positive impact on the game at the amateur, high school and collegiate levels, and we believe this is the perfect time to expand our reach to include women's professional hockey through the NWHL."
The acquisition means Pegula Sports and Entertainment, which bought the Sabres in 2011, becomes the second NHL ownership group to be affiliated with an NWHL franchise. Earlier this year, the owners of the New Jersey Devils formed a strategic alliance with the Metropolitan Riveters.
"This extraordinary commitment from Kim and Terry Pegula – a complete acquisition of one of our founding four teams by NHL owners – is a landmark moment for the NWHL, our players and fans, and women's hockey," said NWHL founder and commissioner Dani Rylan.
"We thank Kim and Terry for believing in the Beauts and in the mission of our league to fuel the continued growth of our sport around the world. Supporters of women's hockey should take enormous pride in this significant step for our game."
Besides Buffalo, the NWHL has three other teams based in New York, Connecticut and Boston. According to The New York Times, Rylan's aim is to have all four franchises backed by NHL teams, in a model similar to the one employed by the Women's National Basketball Association (WNBA).