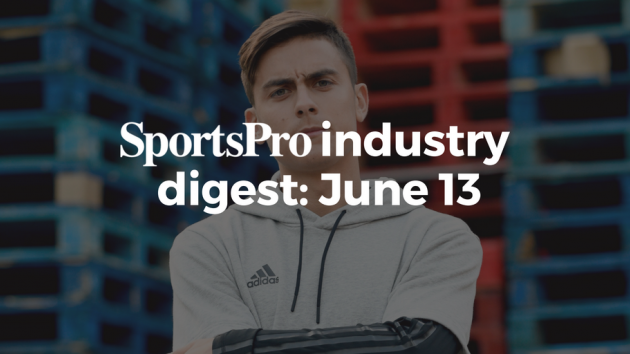 Top story
German sportswear giant Adidas have lured Argentinian soccer star Paulo Dybala away from Nike and announced the 24-year-old as a new brand ambassador on the eve of the Fifa World Cup.
The Juventus and Argentina forward's contract with Nike expired in February 2017 and Adidas has now added to its soccer roster, although the length and financial details of the contract have not been announced.
Dybala will wear Adidas' GLITCH soccer boots in Russia as he and Argentina look to go one step further than the last World Cup where they lost 1-0 to Germany in the final.
"I'm delighted to be part of the Adidas family, joining the leading sports brand pushing the boundaries of creativity on and off the pitch," Dybala said. "I'm excited to see what the future holds and what we're able to create together."
Claus-Peter Mayer, vice president of global sports marketing at Adidas Soccer, added: "Paulo Dybala is one of the most creative players in the game. These attributes make him the perfect player to join the Adidas team. We can not wait to see Paulo make his mark at the Fifa World Cup."
Sponsorship
Fifa has signed its first World Cup sponsorship deal in five years for a company outside of China, Qatar and Russia by agreeing a deal with the government of Egypt – also the 2018 World Cup's first African partner.
The China Football Industry Development Corporation (CFIDC) has agreed a deal to make Xifeng liquor an official supplier for the 2018 Chinese Football Association (CFA) Cup.
Privatised gate security company Clear has signed supply deals with two Major League Soccer (MLS) arenas: Los Angeles Football Club's Banc of California Stadium and San Jose Earthquakes' Avaya Stadium.
The academy of Italian soccer giants Inter Milan and Inspiresport have announced a new three-year partnership that sees the UK agency arrange for junior players to come and take part in programmes at the Serie A club's training base in Milan.
The Polish Football Association (PZPN) has renewed its partnership with Deloitte until the end of 2020
La Liga and Dongfeng Fengguang have signed a deal making the Chinese automobile brand an official regional sponsor of the Spanish soccer top-flight for the 2018/19 season.
In tennis, the China Open has announced a five-year contract renewal with China CITIC Bank, one of its current two 'Diamond Sponsors', which now runs until 2022.
The Ultimate Fighting Championship (UFC) has announced that Black Rifle Coffee Company will serve as the promotion's 'official coffee' for season two of Dana White's Tuesday Night Contender Series.
German automotive manufacturer Mercedes-Benz has agreed a sponsorship deal with golf's PGA Tour Series-China.
Staying with the PGA Tour, it has signed a five-year partnership with the Astros Foundation, the charity arm of Major League Baseball team the Houston Astros, to support the annual golf event in the Texan city.
Westgate Resorts has been named title sponsor of Las Vegas Motor Speedway's September Nascar Camping World Truck Series race.
England Rugby League have announced that Dacia has become its principal partner, with the automobile company's branding to appear on the national team's shirts until the end of 2021.
Minor League Baseball's (MiLB) Salt Lake Bees have announced a new partnership with ride-sharing service Lyft.
International hotel bookings company HotelPlanner.com will be their title sponsor for the upcoming Sarasota Powerboat Grand Prix.
Media Rights
ESPN networks and NBA TV have struck a deal to share all 82 games from the National Basketball Association (NBA) Summer League across their various linear and over-the-top (OTT) platforms.
Sportskeeda, a proprietary brand of Absolute Sports, has acquired exclusive Indian digital broadcasting rights for the two-match T20I cricket series between Pakistan and Scotland starting 12th June.
Australian pay-television broadcaster Fox Sports has agreed a five-year extension to its rights partnership with the International Hockey Federation (FIH).
Danish commercial broadcaster TV2 has acquired rights via sublicensing deal with Nordic Entertainment Group to a number of national team handball tournaments operated by the International Handball Federation and European Handball Federation.
Ghanaian public-service broadcaster GTV has agreed a deal for free-to-air rights to the 2018 Fifa World Cup. GTV will share the rights to the national team soccer tournament with fellow free-to-air broadcasters Metro TV and Kwese TV.
Liga Portugal, the organising body of Portuguese club soccer has agreed broadcast and sponsorship agreements for the Taça da Liga competition. Via a wide-ranging deal with the Olivedesportos agency, pay-television broadcaster Sport TV has become the new domestic rights-holder until 2021/22 and Allianz has signed a two-year title sponsorship deal.
Personal Endorsement
German supermarket chain Rewe and Thomas Müller have signed an extension to their advertising partnership, continuing a deal that has run since 2011.
Investment
International sports marketing agency Infront has made a new acquisition in the mass participation events sector by concluding a deal to buy XLETIX.
Bidding & Hosting
Ho Chi Minh City, Vietnam will host the first-round draw for the English Football League (EFL) 2018/19 Carabao Cup club soccer tournament on Friday.
Brazilian top flight soccer club Flamengo will play their home games at the Maracanã stadium until the end of 2020 after striking a deal which sees the club pay 15 per cent of its matchday income in rent to managing company Esportecom.
Politics & Governance
The International Olympic Committee (IOC) has moved to suspend all direct financial payments to the International Biathlon Union (IBU) until a series of demands are met concerning reform of the body amid its administration crisis.
Team of the day
Betfair's latest World Cup activation left a few 'unsuspecting' five-a-side players 'stunned' when four stars of world football appeared at a kick-a-about in London to turn the tide of the game. The standard of acting might not be the best but the clip does at least prove that you can get Rivaldo to appear in anything these days.
Our industry digest will update throughout the day as deals break so check back to make sure you do not miss a story