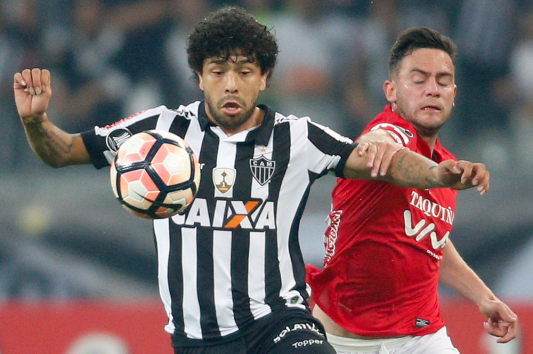 Orthopride has announced partnerships with top-tier Brazilian soccer sides Cruzeiro and Atlético Mineiro.
The Brazilian orthodontic firm will see its branding feature on the shirts of both Campeonato Brasileiro Serie A teams for the 2018 season.
The length and financial details of the agreements have not been disclosed.
Atlético Mineiro has also signed a three-year deal with the Universidade Brasil, which will result in the organisation's logo being displayed on the shoulder blade area of the club's shirts.
In addition, Atlético fans will be given access to scholarships and discounted offers at the university.
The Universidade Brasil is also a partner of the Brazilian Football Confederation (CBF), the governing body of soccer in the country.
Atlético Mineiro wore Orthopride-sponsored shirts for the first time on 21st January when they played Democrata during the second round of the Mineiro Championship state competition.
"It is a pleasure to have the partnership of a leading company in the advanced orthodontic segment," said Lucas Couto, director of marketing at Atlético Mineiro. "Great brands go together and Orthopride will be very welcome here at Atlético."
Alexandre Soares, commercial director at Orthopride, added: "It will be an honour to help the teams win great titles. We are very happy. We are sure that we will develop a partnerships."
"Orthopride is another sponsor who believes in Cruzeiro's brand and media strength with its partners," said Marco Antônio Lage, executive vice president of Cruzeiro. "This new sponsorship fits into the new business strategy being implemented by the club to increase revenue and contribute to the business of the partners. I am sure that with Cruzeiro, Orthopride will have a great result in the market."
Cruzeiro finished fifth in Campeonato Brasiliero Série A in 2017, securing qualification for the group stage of this year's Copa Libertadores, South America's premier club competition. They drew 0-0 against Caldense on Saturday in the first stage of the Campeonato Mineiro, the top-tier local league in Mineiro, and will host Uberlândia Esporte Clube on 24th January.
Atlético Mineiro, meanwhile, finished ninth in the Campeonato Brasiliero Série A in 2017, which also sees them qualify for the Copa Liberatadores. They beat Esporte Clube Democrata 3-0 on Sunday in the Campeonato Mineiro and will face Villa Nora away on 25th January.