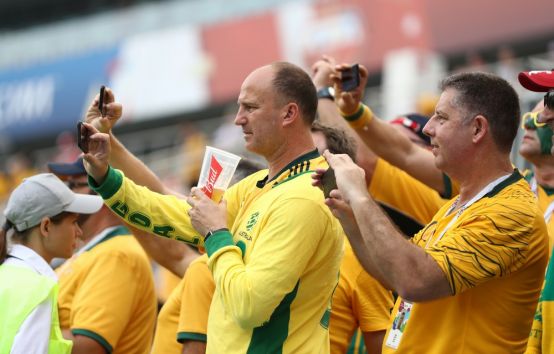 Australian broadcaster SBS will show all remaining Fifa World Cup games on free-to-air after extending a deal with Optus, which has left viewers frustrated with streaming coverage marred by repeated technical glitches.
Optus coughed up a reported US$8 million in May to secure rights to all 64 matches from the international soccer tournament, with 39 of the games intended to be exclusive to the telecommunications giant.
However, Optus was forced to sacrifice that exclusivity and share rights for the group stages with SBS after its initial streaming coverage of the World Cup was hit by buffering issues and constant lag.
That deal has now been extended until the end of the tournament on 15th July, giving viewers the chance to watch games on SBS's TV channels, SBS On Demand, the Fifa World Cup app and on The World Game website.
"With eight million Australians tuning into SBS's coverage to date, we know how passionate the country is about the world game and are confident fans will continue to engage with the matches as we head towards the end of the competition in Russia," said SBS managing director Michael Ebeid.
The announcement came shortly after Optus apologised for the chaos caused by the failure of its World Cup streaming service, adding that the issue has now been fixed. However, rather than risk further backlash from the Australian public, the company has opted to share broadcasts with SBS to ensure that fans get to watch every game without interruption.
Optus chief executive Allen Lew admitted in an official statement that the company's coverage had suffered from 'technical issues' but remained adamant that it would 'continue to innovate' and 'not waver' from its strategy in the future.
"Optus is here to push the boundaries of innovation in Australia and deliver choice to customers," said Lew. "We had technical issues with the Optus Sport service over the first weekend of the tournament but we are confident that these issues have now been addressed."
The World Cup has proved a costly experiment for Optus, which also recently announced that fans will be able to sign up to the Optus Sport app for free until 31st August, while anyone who has already paid the AUD$15 subscription will be refunded.
"Our customers and viewers have been the priority in our decision making and that's why we have provided several ways to watch the matches, offered refunds and introduced a range of measures to address the technical issues experienced by some Optus Sport viewers," added Lew.