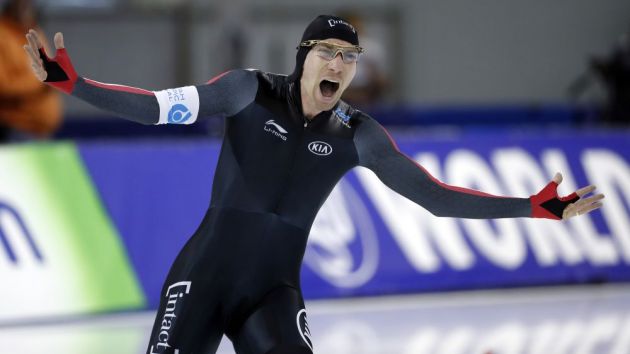 According to his new sponsors, CEEK VR and ONG Social, Canadian speed skater Ted-Jan Bloemen has become the first athlete to accept payment in cryptocurrency.
The 31-year-old Olympic long track skater, who is the world record holder over 10,000 and 5,000 metres, has signed unique, one-year sponsorship deals that sees him partially paid in cryptocurrencies by the two American companies.
CEEK VR chief executive Mary Spio and ONG Social chief executive Christopher Kramer claim Bloemen is the first athlete to accept sponsorship payment via the potentially wildly fluctuating cryptocurrency.
CEEK VR, a producer of virtual reality experiences, is set to issue its token publicly in mid-February and ONG Social, a decentralised social network and crypto-community, already has a coin on the market.
"We did a minimum amount in cash, but most in cryptocurrencies," Bloemen said. "For me, the real risk of not getting anything is not there, because I got a little (cash) out of it already.
"That combination makes this sponsorship really fun, right. Because we're going to help each other. I'm trying to get them a little more exposure to make them succeed, and that would help all of us, right."
Once CEEK's tokens hit the market, Bloemen would be able to cash out, though he will be at the Olympics and focused on delivering the kind of results that CEEK and ONG are banking on.
"He's an exceptional athlete who is well positioned to go for the gold," said Kramer. "We looked at who he was and at his accomplishments and decided this would be a good thing to do."