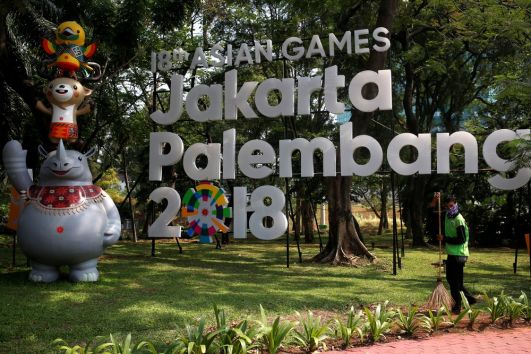 The Olympic Council of Asia (OCA) has penned a marketing rights deal with the organising committee of the 2018 Asian Games (INASGOC), which is due to be staged in the Indonesian cities of Jakarta and Palembang.
The organising committee will pay the OCA US$40 million in order to gain full control of the sponsorship and marketing rights for the multi-sport event, and will then be able to keep all profits generated from subsequent sponsorship and marketing activities.
Additionally, a separate US$3 million will be paid by the event organisers to the OCA's marketing partner Dentsu in order to cover legal costs and measures to avoid ambush marketing.
The contract, which was signed by OCA president Sheikh Ahmad Al-Fahad Al-Sabah and Jusuf Kalla, the Indonesian vice president and chairman of the Asian Games steering committee, was negotiated at the OCA general assembly in Ashgabat, Turkmenistan last month during the Asian Indoor and Martial Arts Games (AIMAG 2018). The deal replicates similar agreements which were in place for Guangzhou 2010 and Incheon 2014, the previous two editions of the Asian Games.
Meanwhile, the OCA has also confirmed three sponsorship deals for next year's edition of the Games, including partnerships with IT solutions company Ssangyong, Swiss luxury watchmaker Tissot and Chinese sports goods supplier 361 Degrees.
The 2018 Asian Games will be the 18th edition of the event and is due to take place between 18th August and 2nd September.