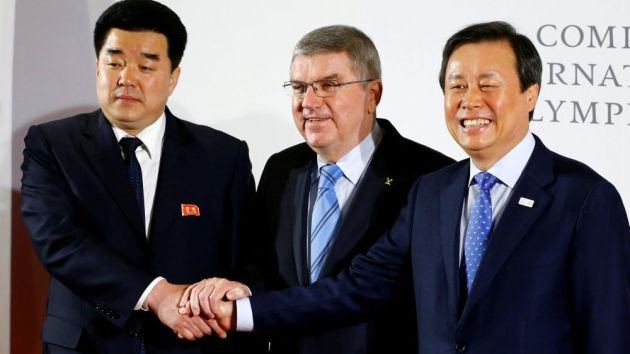 The International Olympic Committee (IOC) has confirmed that 22 North Korean athletes will compete in the PyeongChang Games next month, with both Korean teams marching together at the opening ceremony.
IOC president Thomas Bach said the North Koreans will compete in five sports disciplines, including a unified women's ice hockey team. The others are figure skating, short track speed skating, Alpine skiing and cross-country skiing.
The agreement became possible after North Korean leader Kim Jong Un announced three weeks ago that a team could cross the border to compete. The North will also send 24 officials and 21 media representatives.
The Korean delegation will be led into the Olympic Stadium for the opening ceremony under the Korean unification flag which will be carried by one athlete from each country.
North Korea sent a group of officials to the country on Sunday to prepare for a trip by an art troupe during the Games, pushing the visit back a day after earlier cancelling it.
The North Korean athletes will be handed quota places, a rarely used form of Olympic wild card, to allow them to compete in ice skating, skiing and ice hockey.
Before the announcement of the agreement, a figure skating pair were the only North Koreans to have secured a spot at the Games through the conventional qualifying, although they lost their place after failing to register.
They have also now been handed one quota place, while two male North Korean competitors were given places in the short track speed skating.
Three North Koreans will compete in the cross-country skiing and another three in the Alpine skiing slalom and giant slalom events.
12 players will be added to the existing South Korean women's ice hockey squad of 23, with at least three North Korean players selected for each match.
"Today marks the milestone on a long journey," said Bach in a prepared declaration. "Since 2014, the IOC has addressed the special situation of having the Olympic Winter Games on the Korean peninsula.
"Such an agreement would have seemed impossible only a few weeks ago," he added. "The Olympic Winter Games are hopefully opening the door to a brighter future on the Korean peninsula."
The IOC will provide any necessary equipment for the athletes.