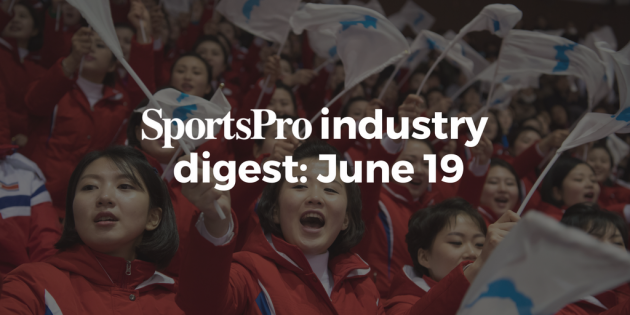 Top story
North and South Korea have agreed to form a unified team for certain sports at this August's Asian Games in Jakarta, Indonesia.
The South Korean Ministry of Culture, Sports and Tourism has confirmed athletes from North and South Korea will march under a unified flag during both the opening and closing ceremonies at the multi-sport event as part of a deal deal agreed on Monday during a meeting at Peace House in the truce village of Panmunjom.
North and South Korean athletes also walked under a symbolic unified flag at the opening ceremony of the 2018 Winter Olympic Games in Pyeongchang, South Korea, and fielded a joint women's ice hockey team at the Games.
The Ministry did not state which sports the unified team would compete in at the Asian Games, but did confirm that a joint basketball team will play two friendly games in both North and South Korea this year.
Sponsorship
Energy drinks brand Xyience has renewed its sponsorship of the International Champions Cup (ICC) pre-season soccer tournament for the 2018 edition. It has also been announced that French club Lyon will replace Sevilla as a result of fixture clashes for the Spanish outfit.
German designer Philipp Plein has penned a three-year deal to become the official fashion partner of Ligue 1 soccer club AS Monaco.
H-Hotels.com has extended its sleeve sponsorships with German top flight soccer clubs Borussia Mönchengladbach and Werder Bremen for another season, with the deals worth a reported €1.5 million to each club.
Swansea City have announced that Low Cost Vans will be the club's shorts sponsor for their return to English soccer's tier, the Championship.
Further down the English pyramid, Walsall fans will have the chance to watch their team in the newly named HomeServe Stand next season after the club's main sponsor extended its partnership with the firm in a five-year deal.
Scottish soccer giants Rangers have agreed a new three-year partnership with sports travel operator, Thomas Cook Sport, which becomes the club's official supporter travel partner and team travel provider.
Spanish top flight outfit RCD Espanyol signed an agreement with Barcelona bike sharing scheme Bicing to offer the La Liga club's members two free months with the service when they sign up for a year's subscription.
In the second tier club Real Zaragoza has announced that fashion brand Coronel Tapiocca has become its official 'street clothes' supplier for the 2018/19.
India's two-match Twenty20 cricket tour of Ireland will officially be known as the Netmeds Cup Ireland vs India T20 Series 2018 Powered by Dalmia Cement after the online pharmacy and cement manufacturer respectively scored sponsorship deals.
French clothing company Lacoste has agreed a three-year partnership with the International Olympic Committee (IOC) that will result in the launch of the first exclusive Olympic Heritage lifestyle apparel collection.
Media Rights
Eleven Sports has added to its soccer rights portfolio in Portugal with the acquisition of Bundesliga, the German Supercup (both from 2019/20), Scottish Ladbrokes Premiership, Belgian Jupiler Pro League, the Belgian Supercup and Arsenal's official club channel (from 2018/19).
Pay-television broadcaster O2 TV has acquired exclusive rights to the First League, the top tier of club football in the Czech Republic in a four-year deal running until the end of the 2021/22 season.
Greek pay-television broadcaster Cosmote TV has signed a two-season extension to its rights deal with the National Basketball Association (NBA), reportedly running until 2020.
Staying in Greece, pay-television broadcaster Nova has acquired rights to Serie A, the top division of Italian club soccer, starting with the 2018/19 season.
The Olympic Channel today announced that it has reached agreements with eight sport governing bodies and multi-sport organisations to collaborate on content for the Olympic Channel: the Federation of International Lacrosse (FILx), International Federation of Basque Pelota (FIPV), International Korfball Federation (IKF), International Sumo Federation (IFS) and International Wushu Federation (IWUF), in addition to the International Committee of Mediterranean Games (ICMG), International University Sports Federation (FISU) and Special Olympics.
The Olympic Channel will also present more than 205 hours of live online coverage of the 2018 Mediterranean Games, starting on Friday.
Agencies
British Wheelchair Basketball, the national governing body, has appointed Promote PR ahead of a summer of sport that includes July's Continental Clash in Sheffield and August's World Championships in Hamburg.
Marketing agency Mongoose Sport and Entertainment has been appointed to find a new naming rights partner to English rugby union club Wasps' multi-purpose stadium and complex.
Burson-Marsteller Sport, the Lausanne-based sports consultancy, has been appointed by the Turkish Olympic Committee (TOC) to help it to define its future organisational strategy.
Bidding & Hosting
The International Racquetball Federation (IRF) has been forced to move its 2018 World Championships for a second time after the facilities where the event was due to be held in Cali, Colombia, were demolished. San Jose, the capital of Costa Rica, will now be the new destination for August's event
The national soccer governing bodies of Indonesia, Thailand and Vietnam have shown interest in a joint pitch, which could also include Malaysia, to host the 2034 Fifa World Cup.
Politics & Governance
The German Volleyball Federation (DVV) has erupted into chaos following the resignation of Thomas Krohne, the national association's president, and the executive board. A new leadership team, headed by Germany's record volleyball appearance holder René Hecht, in volleyball, has been named DVV president, and is joined by vice-presidents Thomas Petigk and Ernhard Rubert.
Filter of the day
Snapchat released a host of new features for England fans ahead of the team's opening game victory at the Fifa World Cup on Monday, including a variety of filters and stickers.
Perhaps the coolest development was the platform's new tie-up with Budweiser to produce the world's first sponsored, sound-activated lens. The technology responds to celebrations of fans during tournament games in real-time, using a limited-edition augmented reality (AR) Lens, allowing all Snapchatters aged 18 and over to light up their screens with branded content.
Our industry digest will update throughout the day as deals break so check back to make sure you do not miss a story