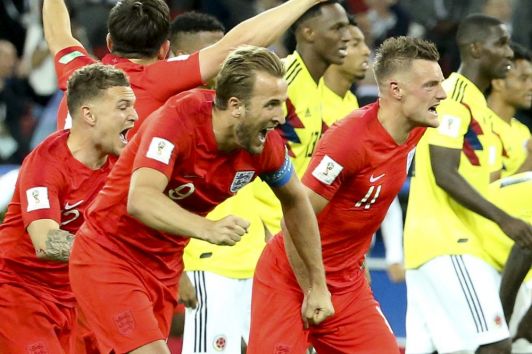 England knocking out Columbia on penalties in Moscow on Tuesday night was more than just a victory for a nation so used to shootout heartbreak— it also marked another commercial win for Nike over rival sportswear brand Adidas.
In a World Cup brimming with upsets, the US brand looks on track to defeat its German competitor in the closely watched kit branding battle.
The Nike-sponsored teams Brazil, France, England and Croatia make up half of the teams in the last eight of the tournament, while Adidas has Belgium, Sweden and Russia left in contention, with the group of eight rounded out by Uruguay, sponsored by Puma.
Sports brands typically sell the bulk of their fan merchandise ahead of the World Cup, but a team's success on the field can generate extra demand for gear emblazoned with its emblems and colours, especially if its progress, as in the case of England and Croatia, is unexpected.
Adidas started the tournament with more horses in the race than Nike, a role reversal from four years ago. Adidas sponsored 12 of the 32 participating teams in Russia, including strong early contenders Germany and Spain, along with the hosts, with Nike supplying ten.
The unexpected elimination of 2014 champion and Adidas-sponsored Germany was a disaster for the company, with its shares falling 2.7 per cent in the following session.
In 2014, Germany accounted for a third of Adidas' roughly nine million team jersey sales, with an incremental ten per cent of those sales resulting from the country's tournament victory.
Over the weekend, high-profile Adidas-sponsored teams Argentina and Spain were eliminated. Likewise, Mexico lost to Nike-sponsored Brazil on Monday.
In contrast, Nike's stock is up almost three per cent since the start of the tournament, helped mostly by a strong quarterly report and sales outlook last Thursday. Adidas has lost about five per cent.
"While Adidas dominates the European leagues and the US professional league, certainly any market share that Nike can pick up in a non-traditional US sport can only bode well for the stock price and brand," Jake Dollarhide, chief executive officer of Longbow Asset Management, told Reuters.
The combined accomplishments of Nike-sponsored teams in Russia mark a major success for the US sports apparel maker as it pushes to increase global soccer-related sales that reached more than US$2 billion in fiscal 2018.
Heading into this year's World Cup, Adidas downplayed the sporting event's potential effect on sales, pointing to Russia's tepid economy.
But the World Cup remains a major marketing opportunity for Adidas, which is one of seven Fifa partners and the supplier of the World Cup match ball since 1970.
As well as team jerseys, sponsorship of top individual players is critical for the promotion of soccer shoes. Ahead of the World Cup, Nike expected 60 percent of players heading to Russia to use its footwear.