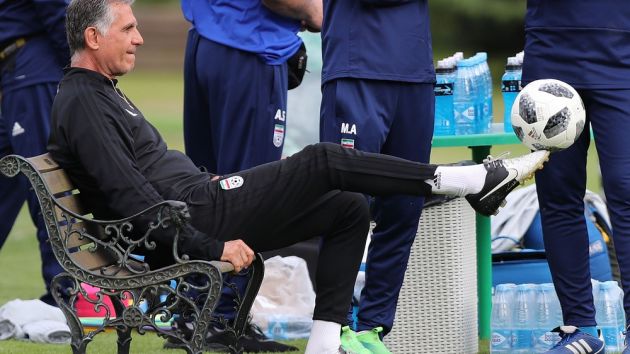 Sportswear giant Nike has said it is unable to supply Iran's Fifa World Cup stars with soccer boots because of US sanctions.
The decision came after US President Donald Trump reimposed economic sanctions against the Middle East nation in May when the US withdrew from the nuclear deal originally signed in 2015 between Iran and other world powers.
Nike is not the only organisation to have been affected by the move, with several major foreign companies since announcing that they will suspend their activities in Iran.
'US sanctions mean that, as a US company, Nike cannot supply shoes to players in the Iranian national team at this time,' Nike said in a statement published by ESPN.
'Sanctions applicable to Nike have been in place for many years and are enforceable by law.'
Had Nike gone through with supplying the Iranian team with boots, it could have been hit with hefty fines under the US Department of the Treasury's regulations.
Iran head coach Carlos Queiroz (pictured), however, has responded angrily to Nike's withdrawal, and confirmed that he has asked Fifa to step in and help his players.
"Players get used to their sports equipment, and it's not right to change them a week before such important matches," said Queiroz, who has also coached Portugal and Real Madrid. "We are only managers and footballers, and should not get involved in such matters. But we are asking Fifa to help us with this."
Nike's decision has also not gone down well with Iranian fans, who have encouraged others to boycott the company's products using the hashtag #NoToNike on social media platform Twitter.
The episode is the latest stumbling block in what has been a turbulent build-up to Iran's World Cup campaign, with the team having both their warm-up friendlies against Greece and Kosovo cancelled.
Iran play their first game in Russia against Morocco on Friday, before meeting Spain and Portugal in their remaining Group B fixtures.