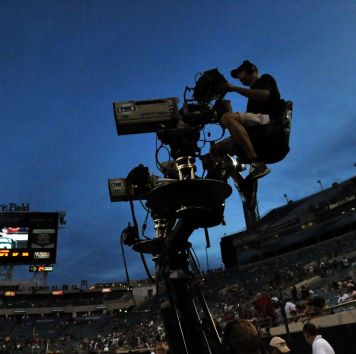 The National Football League Players Association (NFLPA) has announced the creation of REP Worldwide, an athlete representation company that will work with players and properties across a range of sports.
The new venture, described by the NFLPA as 'groundbreaking' and 'a first-of-its-kind group player representation business', will provide licensing and brand management services to 'athlete-driven sports properties'.
The NFLPA will serve as a majority shareholder in the company, with its licensing and marketing arm, NFL Players Inc, joining as a founding partner along with the US Women's National Team Players Association (USWNTPA) and the Women's National Basketball Players Association (WNBPA).
Each of the founding partners will have representation on the REP Worldwide board, which will include athlete advisory and executive positions filled by representatives from each entity.
Services offered by REP Worldwide will include: strategic planning; leveraging athlete intellectual property group rights; structuring licenses and sponsorships; consulting on marketing activation strategy; driving support for players and licensees at retail; and developing content opportunities through ACE Media, the NFLPA's content and production subsidiary.
"We're excited about the potential of this new business," said Ahmad Nassar, the president of NFL Players Inc. "Building on the athlete likeness commercialisation successes we've seen through the NFLPA, REP Worldwide can immediately stand alone in terms of what it can offer athletes and partners alike."
REP Worldwide - whose name stands for 'Representing Every Player' - will offer resources and expert representation to a 'selectively cultivated portfolio of athlete-driven sports properties'. It is not yet known which properties will be selected, but the involvement of the USWNTPA, which represents the rights of female soccer players in the United States, and WNBPA, the WNBA's players' union, suggests the company will have a strong focus on women's sport.
An NFLPA statement said REP Worldwide will be seek to emulate the success of NFL Players Inc, which was founded in 1994. The NFL Players Inc business model allows NFL players to share in revenues generated through global licensing programmes and which fund their union's activities.
NFL Players Inc, which has licensing deals in place with the likes of Panini, EA Sports and Fanatics, generated US$150 million in revenue in 2015. By 2020, that figure is projected to surpass US$200 million.
"Working with REP Worldwide gives the WNBPA a leap forward in our group licensing programme," said Terri Jackson, the director of operations at the WNBPA. "The WNBPA is the first sports union for women and next year we celebrate our twentieth anniversary. We want this milestone year to include maximising all licensing and marketing opportunities for our incredible and diverse athletes."
That sentiment was echoed by the USWNTPA. Earlier this year, the association struck a new collective bargaining agreement with the US Soccer Federation (USSF) that called for players to have greater control over their image rights, as well as the ability to procure non-exclusive sponsors in categories not already sold by the USSF.
"The UWSNT is excited to be a part of this new organisation – one that understands and believes in the value and group marketing opportunities creating by our USWNT players," said Becca Roux, the association's interim executive director.
"Coming off the back of an incredibly successful year for women's soccer, both in the US and abroad, we see enormous potential to capitalise on the group licensing and marketing opportunities through REP Worldwide. We're looking forward to working with our REP Worldwide partners to bring the organisation's offerings and expertise to other athletes and teams."