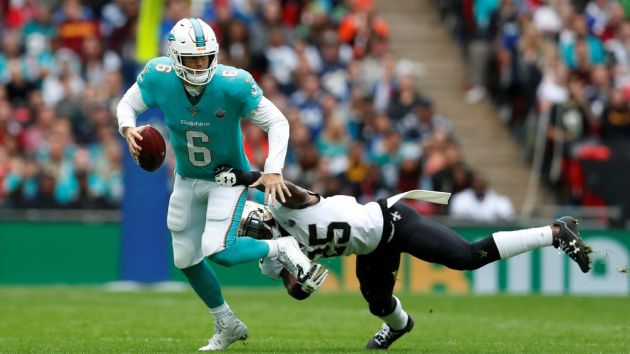 The National Football League (NFL) has announced a new season-long deal with biennial UK charity event Sport Relief.
The partnership was launched at Sunday's NFL game between the Miami Dolphins and New Orleans Saints at Wembley Stadium in London, where the Dolphins' British running back Jay Ajayi led out his team carrying a flag decorated with the Sport Relief logo. Volunteers from local universities also collected donations for the charity during the game, which the Saints won 20-0.
The jerseys worn by the players from both teams in Sunday's match will be auctioned by the NFL to raise money for Sport Relief's 2018 campaign. Funds are also being raised through ticket sales from the series of NFL UK Live fan events being staged around the league's regular season games in London, while more events are due to be announced later this year.
Alistair Kirkwood, managing director of NFL UK, said: "We're honoured to be partnering with Sport Relief, one of the most admired charities in the UK. Sport has an incredible ability to be a positive force and the opportunity to work with Sport Relief and using American football to add to their magnificent efforts it an exciting one. Our staff and our athletes and, we believe, our fans are looking forward to making a difference together."
Liz Warner, chief executive of Comic Relief, the charity which created Sport Relief, added: "It's great to be joining the NFL as it gets bigger and more popular here in the UK. They are a brilliant partner for us, enabling fans to watch their favourite sport and support Sport Relief at the same time."