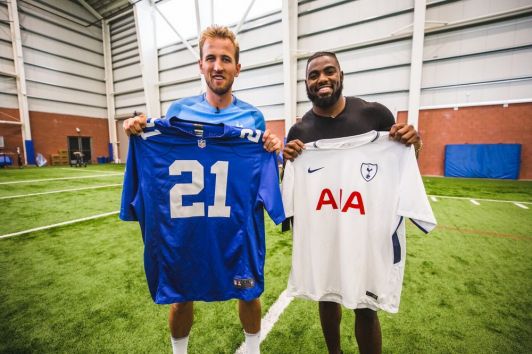 The National Football League (NFL) has entered a new partnership with sports media company Whistle Sports.
The two parties have teamed up to create a four-episode short-form video series called 'Game Recognise Game', which will pit NFL players against international soccer stars in a number of sport-related challenges.
Representatives from the NFL will include Landon Collins of the New York Giants, the Houston Texans' JJ Watt, two-time Super Bowl Champion Danny Amendola and Josh Norman of the Washington Redskins. Meanwhile, the soccer players all compete in England's Premier League, and include Tottenham Hotspur striker Harry Kane, Manchester City's Sergio Aguero, and Manchester United's Victor Lindelof and Paul Pogba.
The episodes will air live on Whistle Sports' YouTube and Facebook pages, with clips also being distributed across NFL franchise and player-owned social channels on Facebook, Instagram and YouTube.
Henry Hodgson, vice president of international marketing for the NFL, said: "We are excited to work with Whistle Sports, our NFL clubs and players, and teams from the English Premier League and their players, to create engaging content. Collectively, we believe this series will appeal to sports fans consuming content on social media platforms around the world."
"This is a great example of the power of what Whistle Sports and the NFL can do together," added Jeff Urban, co-founder and president of Whistle Sports. "Through our partnership, we expect to see more content like this as we lead into the 2017 season.
"We continue to work with the league on attracting young audiences across social, and we're excited to premier this content on Whistle Sports and create a social conversation with players, leagues, teams and fans."