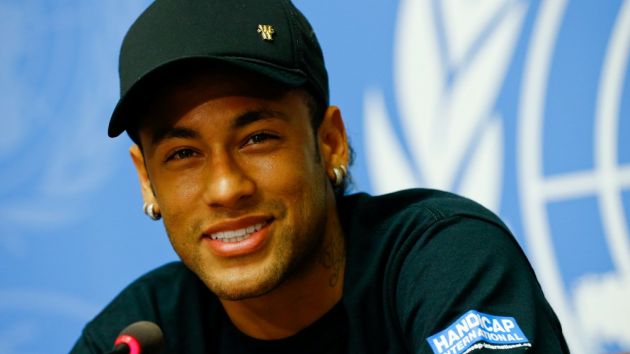 Brazilian international soccer star Neymar has become an ambassador for Handicap International, a worldwide charity which aims to provide aid and support to disabled and vulnerable people living in poverty-struck countries.
The forward, whose recent €222 million (US$259.2 million) move from Barcelona to Paris Saint-Germain doubled the world record transfer fee, was unveiled by the non-governmental organisation standing on top of the 'Broken Chair' sculpture in front of the United Nations (UN) headquarters in Geneva, Switzerland.
The 25-year-old wore a T-shirt with 'repair lives' written across the front, and kicked soccer balls branded with the charity's logo down to fans outside the Palace of Nations.
Speaking at the launch of the partnership, Neymar said: "I would like to begin by thanking you all for what you do for the least visible in the world, so they become more visible. I have to say that I am very pleased to be here and to be the new ambassador.
"I hope this will be a very successful partnership and that we will be able to help a large number of people. Millions want their rights, they want to be treated better. That's what we are here for and that is what our aim is. Obviously the practical part of this partnership still has to be discussed. I know that my image is very powerful and can help."
"What people may not realise is that beyond this exceptional sportsman, there is of course a conscience and a voice," added Manuel Patrouillard, managing director of Handicap International. "A voice which Neymar Jr decided to put to the service of others, specifically for the most vulnerable, which our organisation works for."
Neymar made his highly anticipated Ligue 1 debut for Paris Saint-German in a 3-0 win over Guingamp last Sunday, picking up an assist and his first goal for the French top-flight side in the process. PSG play their next fixture at home to Toulouse on 20th August.