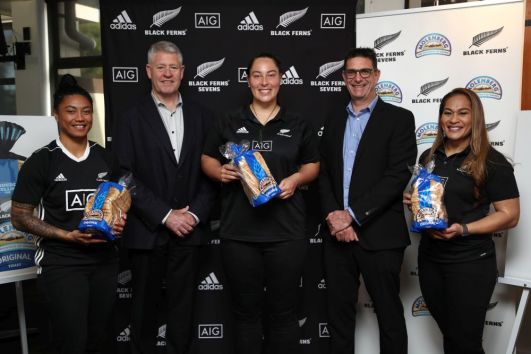 The Black Ferns and Black Ferns Sevens, the two national women's rugby teams of New Zealand, have secured an historic sponsorship deal with Molenberg.
The agreement with the New Zealand bread brand will see the company's logo appear on the playing and training shorts of the two Black Ferns teams for the next two years.
The partnership with Molenberg is the first of its kind for New Zealand Rugby (NZR) as a standalone corporate sponsorship for the women's sides. It follows the landmark announcement of NZR's first professional contracts for its top female players.
NZR chief executive Steve Tew said: "The number of women playing rugby in New Zealand and around the world continues to grow and it is fantastic to see that growth being complemented by another sponsor alongside major partners Adidas and AIG.
"Our Black Ferns and Black Ferns Sevens players have been fantastic ambassadors for women's rugby, and Molenberg's decision to get behind both teams will only enhance their ability to inspire the next generation of players."
NZR head of women's rugby development Cate Sexton added: "Our women's players are forging new ground both on and off the field and to have a sponsor commit to the Black Ferns and Black Ferns Sevens is another special moment."
The Black Ferns will wear the Molenberg-branded shorts for the first time on 18th August, when New Zealand face Australia in the first of two Tests.