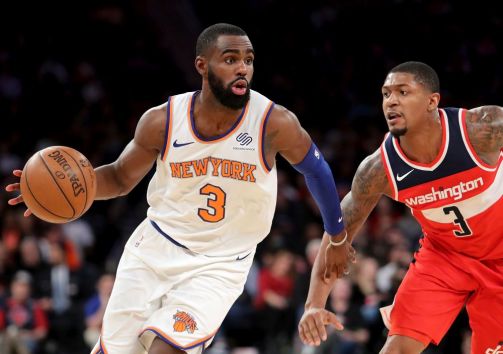 The National Basketball Association (NBA) has confirmed that its 2019 London Game will feature the Washington Wizards and New York Knicks in regular season competition.
The ninth NBA regular season game in the English capital will take place on 17th January at The O2 Arena.
The Knicks have featured in the NBA London Game on two previous occasions – against the Detroit Pistons in 2013 and the Milwaukee Bucks in 2015 – but the Wizards will be making their debut at the annual London event next year.
Tickets for the annual sell-out fixture will go on sale in the autumn.
NBA commissioner Adam Silver said: "We've been playing regular season match-ups in London for nearly a decade, and over that time the games and the surrounding festivities have grown into the equivalent of an NBA All-Star experience transported to Europe.
"Fans and partners from across the continent come to celebrate basketball and enjoy the excitement and experience of an NBA game."
In addition to the game itself, the NBA will run a series of outreach initiatives, including interactive fan activities, NBA Cares community efforts and Junior NBA basketball programming.
Foot Locker, Gatorade, Nike, SAP and Tissot have already signed on with the NBA as marketing partners for the 2019 London Game with more to be announced in the coming months.