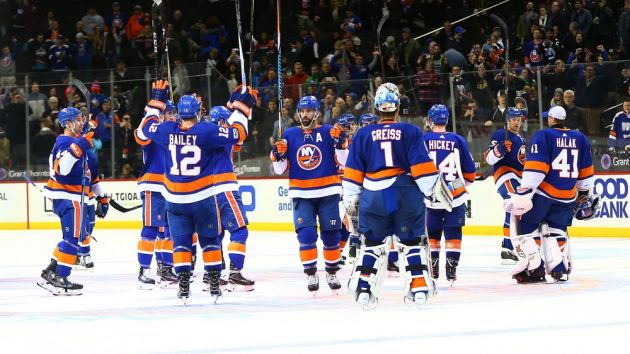 The National Hockey League's (NHL) New York Islanders have announced that they will split their home games between the Barclays Center and the Nassau Coliseum until their new arena at Belmont Park racetrack is completed.
For at least the next three seasons, the team will play half of their 120 scheduled home games at each arena ahead of their move to their new home, which is anticipated to be ready in time for the 2021/22 campaign. The Islanders confirmed that an initial 12 of their 41 regular-season home games in 2018/19 will be played at Nassau Coliseum which, like the Barclays Center, is owned by Brooklyn Sports & Entertainment.
The Islanders relocated to the Barclays Center in 2015 after 43 seasons at the Nassau Colliseum, and the move was widely criticised by the club's fans for removing the team from their traditional home in Long Island and planting them in the unfamiliar surroundings of Brooklyn. Fans have also complained of obstructed views and poor sight lines at the Barclays Center, while the Islanders are also last in the NHL's attendance records.
Since the Islanders left, the Nassau Coliseum has undergone a major renovation that has reduced its capacity to approximately 13,000 seats, making it the smallest capacity arena to house an NHL team. The league's commissioner Gary Bettman toured the Nassau Coliseum last year, only to determine that it was not suitable for an NHL team. New York governor Andrew Cuomo confirmed on Monday that the venue will undergo some 'basic structural modifications' in order to meet Bettman's specifications.
The announcement comes after the Islanders confirmed in December that their plans to build a new ice hockey arena on the grounds of the Belmont Park racetrack in Elmont, New York have been approved.
"The building has obviously got a tremendous sense of history and tradition," said Islanders co-owner Jon Ledecky. "Our fans are so excited to be here. I think if there were no seats, and they had to stand, 14,000 would come and stand here, that's how excited they are."
The Islanders are languishing in seventh in the NHL's Metropolitan Division, and return from the league's All-Star break to host the Florida Panthers on Tuesday.