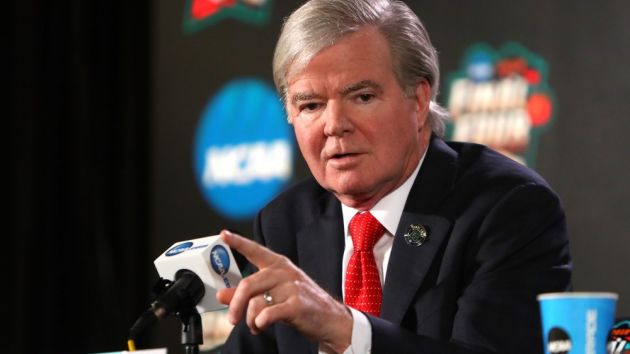 The National Collegiate Athletic Association (NCAA) has adopted a raft of policy and rule changes in a bid to clean up the increasingly scandal-embroiled world of college basketball.
Among the significant changes include permitting elite high school basketball recruits and college players to be represented by NCAA certified agents; allowing eligible underclassmen to enter the National Basketball Association (NBA) draft but return to school if undrafted; and imposing longer post-season bans, suspensions as well as increased recruiting restrictions for coaches who break rules.
"These changes will promote integrity in the game, strengthen accountability and prioritize the interest of student-athletes over every other factor," NCAA president Mark Emmert (pictured) said in a statement. "We remain committed to promoting fairness in college sports and creating an environment that will champion the success of student-athletes."
Pending anticipated approval from the NBA and National Basketball Players Association (NBPA), the NCAA will now allow approved underclassmen to enter the draft, participate in the combine and then return to school if they go undrafted, as opposed to having to with withdraw ten days before the combine. The players who return would be ineligible for the NBA draft until the end of the next college basketball season.
The new rules on agents will allow, college players, after the end of any season, to be permitted to be represented by NBPA-certified agents. Representatives will be permitted to pay for meals and transportation for players, including their families, during the selection process, as well as for meetings with pro teams, if changes are made to existing agent acts and state laws.
Additionally, if the NBA and NBPA change their rules and make high school basketball players eligible for the draft at age 18, as expected, elite senior prospects identified by USA Basketball will be allowed to sign with an NCAA-certified agent prior to their senior year of high school. The agent agreements must be in writing and will be terminated when the student enrols or returns to college.
For investigating and adjudicating complex cases involving rules violations, the NCAA has appointed to two independent groups, the Complex Case Unit and the Independent College Sports Adjudication Panel, to oversee and resolve complex cases, such as academic misconduct, major penalties or adversarial behaviour.
Those investigations will also be allowed to accept information established by another administrative body, including a court of law, government agency, accrediting body or a commission authorised by a school.
School presidents and athletics staff will be held more accountable for cooperating with investigators. School officials will be contractually obligated to report violations in a timely manner and provide documentation and evidence when asked.
Coaches and staff members who break its rules will face more severe penalties, including post-season bans of up to five years, head coach suspensions beyond one season and potential lifetime employment show-cause orders.
Commercially, college sports officials must also now report to the university's president or chancellor their athletics-related income that exceeds more than US$600 from any source outside their school, including endorsement or consultation contracts with apparel companies like Adidas, Nike and Under Armour.