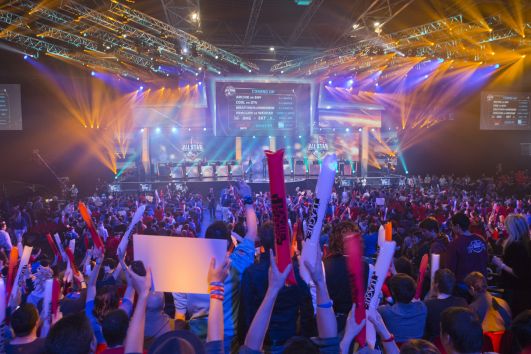 The National Basketball Association (NBA) has announced plans to launch the first official eSports competition owned by a North American professional sports league.
The NBA 2K eLeague, launched in partnership with Take-Two Interactive Software, will debut in 2018, with between eight and 12 competing teams owned by actual NBA franchises.
It is not yet clear which franchises will be represented in the league, but NBA commissioner Adam Silver said on Thursday that all 30 NBA teams will eventually participate.
Each NBA owner will be invited to build an eSports team, just as many operate NBA Development League outfits. Gamers will be selected via a recruiting process overseen by NBA teams and Take-Two, a New York City-based video game publisher and distributor that owns Rockstar Games and 2K Games.
The Associated Press reports that players will be chosen 'through a virtual version of a combine and be selected in a draft, which Silver says will either be televised or streamed online'.
Each NBA franchise will be represented by a team of five paid and trained gamers, who will compete in an 82-game regular season before advancing to a play-off series and then a finals tournament, which Silver says will most likely be held in an NBA arena.
A cash prize will be awarded to the winner, who will receive the championship trophy from an avatar of Silver.
"The large part of my mission is to grow the game of basketball," Silver told The Associated Press. "There's going to be an opportunity for this first of a kind league to attract a group of gamers who might be playing some other game.
"Now, they can say `Maybe I couldn't play for the Knicks, because I didn't have the physical prowess to compete at that level. But I do have the mental and physical prowess to compete as an egamer for the eKnicks.'"
The creation of NBA 2K eLeague continues the mounting investment in eSports by professional sports entities, and comes after the NBA itself held the NBA 2K16 Road to the Finals video game competition ahead of last year's NBA Finals.
The owners of several NBA franchises and current and former players have already invested in the eSports space. The Philadelphia 76ers became the first franchise in North American professional sports to purchase an eSports team when they bought Team Dignitas last September, and since then others have followed suit.
aXiomatic, a new investment group led by Washington Wizards owner Ted Leonsis, Golden State Warriors co-owner Peter Gruber, and basketball legend Magic Johnson have purchased Team Liquid, while last month the Miami Heat acquired a stake in European eSports organisation Misfits, in a deal that sees the two entities collaborate across a number of areas, including branding, promotion and sponsorship activation.
Brooklyn Nets star Jeremy Lin has also set up his own team, while the owners of the Milwaukee Bucks and Memphis Grizzlies have both invested in eSports teams and players. Mark Cuban, the Dallas Mavericks owner, is an investor in Unikrn, an eSports betting site, while the Houston Rockets have hired a designated eSports executive.
The NBA's initial investment in the NBA 2K eLeague is unknown, but the league and Take-Two Interactive are confident of the financial and marketing benefits.
"We believe we have a unique opportunity to develop something truly special for our fans and the young and growing eSports community," said Silver.
The NBA and Take-Two have worked together since 1999, when the publisher launched the league's NBA 2K franchise. The most recent version of that series, NBA 2K17, has sold more than seven million units since it was released last September, according to CNBC.