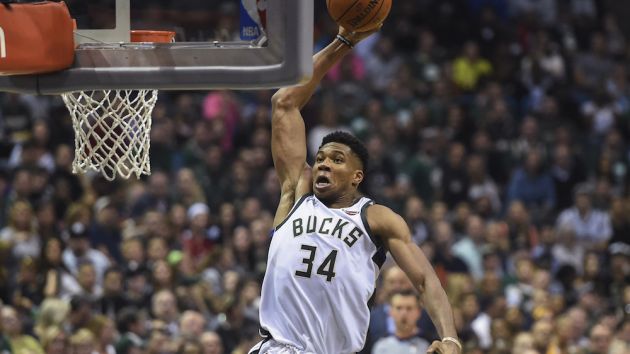 National Basketball Association (NBA) star Giannis Antetokounmpo has re-signed with Nike, ending weeks of speculation surrounding the identity of his new shoe sponsor.
The Milwaukee Bucks forward, 22, will continue to wear Nike shoes on the court after his previous four-year deal with the brand expired at the end of September.
Antetokounmpo, a Nike athlete since joining the NBA in 2013, reportedly had five different brands courting him, including Adidas and Chinese firm Li-Ning. Adidas made its pitch to Antetokounmpo in September, and even gave him a truck filled with products in an attempt to secure his signature.
In a tweet posted on Tuesday, however, Antetokounmpo cited three reasons for re-signing with Nike: family, loyalty, and legacy. Reports say Nike had the option of matching any offer from a rival brand. Terms of the agreement have not been disclosed.
It is understood that Nike has committed to developing a signature line of shoes, which would make Antetokounmpo the 22nd NBA player to have that honour. ESPN reports that the deal is also one of the largest ever given to a European NBA player.
Nike's roster of NBA endorsers includes the likes of LeBron James, Kevin Durant and Kyrie Irving. The brand is also the NBA's official uniform provider, having replaced Adidas at the start of the current season.
Antetokounmpo, an Octagon client who is affectionately known as 'The Greek Freak', has emerged as one of the NBA's most exciting talents. Last year, he claimed the league's most improved player award and is already being discussed as a potential MVP candidate this season.
In May, Antetokounmpo - who was born in Athens to Nigerian parents - ranked 41st in SportsPro's annual list of the world's most marketable athletes.