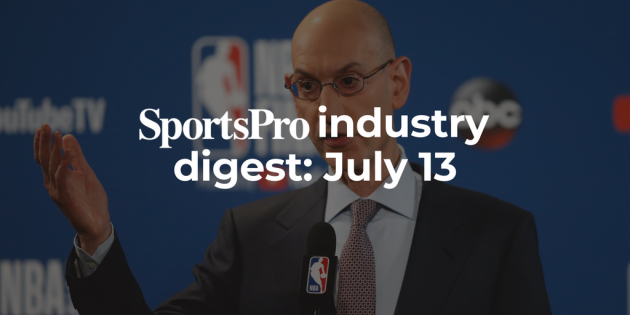 Top story
National Basketball Association (NBA) commissioner Adam Silver says the league can only benefit from the escalating bidding war between Comcast and Disney for 21st Century Fox.
Disney appear to be the closest to sealing a deal for Rupert Murdoch's media conglomerate with the US$71.3 billion cash-and-stock offer made last month to be voted on by Fox shareholders on 27th July. However, Comcast, which earlier in June attempted to intrude on Disney's initial December 2017 agreement with a US$65 billion bid, is reportedly working on an increased offer.
Talking to reporters at the Allen & Co annual meeting in Sun Valley, Idaho, Silver only saw good news in the battle between the media giants. He said: "I think whatever happens will be positive for us."
Before adding: "I am a big [Disney chief executive] Bob Iger fan of course. Disney is one of our partners so in a way I'm rooting for them."
Silver also described Comcast chief executive Brian Roberts "superb," noting that the cable company's regional sports networks also carries NBA games.
Disney pays the NBA richly following its 2014 media rights deal alongside Turner Broadcasting – a contract worth more than US$20 billion - that sees the league's games appear on ABC, ESPN and TNT.
Silver also said that interest from technology companies such as Amazon in sports rights is a "positive" and that technology is giving fans a better experience watching media across devices such as smartphones and tablets.
Sponsorship
National Football League's (NFL) Baltimore Ravens have announced an extension of their official ticketing partnership with Ticketmaster.
Major League Baseball (MLB) and The Topps Company have extended their exclusive global partnership for licensed trading cards through 2025.
Minor League Baseball (MiLB) and the Joe Torre Safe At Home Foundation are partnering for a second year to spread awareness about domestic violence
English top-flight rugby union outfit Wasps have extended their partnership with Heineken, with the Dutch brewery launching its own Heineken Lounge at the Premiership club's Ricoh Arena for the 2018/19 season as part of a long-term deal.
Austrian Bundesliga soccer club FK Austria Wien have agreed a shirt sponsorship deal with water technology company BWT, terms and length were not disclosed.
English second-tier soccer club Rotherham United have has signed a new three-year deal with KCM Waste Management, which will see the company's branding continue to adorn the North Stand at AESSEAL New York Stadium.
Chinese sportswear manufacturer Peak has entered into a partnership with the Belgian Olympic Committee (BOC) that runs through 2020.
Turkish Airlines has renewed its sponsorship of CHIO Aachen, an annual equestrian event held in the German city, for three more years until the 2020 edition.
The International Hockey Federation (FIH) has renewed its data-focused partnership with sports technology company AltiusRT until the end of 2019.
English second-tier rugby league outfit Whitehaven have signed a three-year, five-figure sponsorship deal with Carlsberg.
William Hill has announced a new five year betting shop deal with the Jockey Club Racecourses (JCR), which will see the bookmaker commence retail operations at JCR's portfolio of racecourses.
LeoVegas-owned online casino operator 21.co.uk has signed up as the official UK sponsor of this weekend's 2018 Shanghai Darts Masters in China.
Sherwin-Williams Automotive Finishes has been announced as the official paints and coatings supplier of Formula E's 2018 New York City E-Prix this weekend.
Insurance company MAIF has signed up as an official partner of the French Basketball Federation (FFBB) until 2022.
Bland Group International will become an official partner of the Gibraltar 2019 NatWest International Island Games XVIII.
Soap & Glory has secured a deal to become the first-ever exclusive beauty sponsor for all 2018 Tough Mudder North America Challenge events.
Media Rights
The Havas Sports & Entertainment agency has brokered a late deal with Malaysian pay-television broadcaster Astro for rights to the Manny Pacquiao vs Lucas Matthysse boxing clash between .
Swedish media company Nordic Entertainment Group (Nent Group) has acquired rights in the Nordic region for MLB starting immediately and running until the end of 2019.
The Wimbledon women's singles final between Angelique Kerber and Serena Williams will be on free-to-air free-TV in Germany after rights holder Sky granted a sublicense to ZDF.
Eleven Sports has has secured live and exclusive Portuguese rights to the Uefa Youth League soccer tournament for three years from the 2018/19 season.
SmartSeries
US broadcaster ESPN is teaming up with the NBA to offer several alternative viewing experiences on linear channel ESPN3 and its ESPN App for select games during its coverage of 2018 Summer League from Las Vegas.
Agencies
Maryland-based wagering solutions provider AmTote International is set to provide a sports betting portal to US customers through a partnership with Sportradar that will utlise the sports data and technology supplier's Managed Trading Services (MTS) platform.
Bidding & Hosting
LA Coast Rugby has secured exclusive negotiating rights to launch a Major League Rugby (MLR) expansion team in the Los Angeles Metropolitan area for the 2019 season.
Politics & Governance
The International Boxing Association (Aiba) has continued its reform efforts by launching a New Foundation Plan which seeks to lay the groundwork for the future of the organisation.
The Federation of International Lacrosse (FIL) has adopted a strategic plan to introduce major changes in the sport, including international growth and youth appeal, as it seeks inclusion at a future edition of the Olympic Games.
Australia's National Rugby League (NRL) has proposed an overhaul of the international rugby league calendar in order to provider a greater platform for emerging nations and reintroduce the Australian national team's tour of Great Britain.
Refund of the Day
Chinese kitchen appliance manufacturer Vatti is certainly not getting the return on investment it wanted through the partnership it signed with the French Football Federation (FFF) prior to the World Cup. What seemed a bold promise to offer full refunds for customers purchasing Vatti's 'champion package' between 1st and 30th June if France won the tournament is now looking rash in the extreme. Didier Deschamps' side are favourites to win Sunday's final in Moscow and Vatti has seen 50 per cent wiped off its share price on the Shenzhen Stock Exchange since the tournament began. If you cannot handle the heat etc.
Our industry digest will update throughout the day as deals break so check back to make sure you do not miss a story