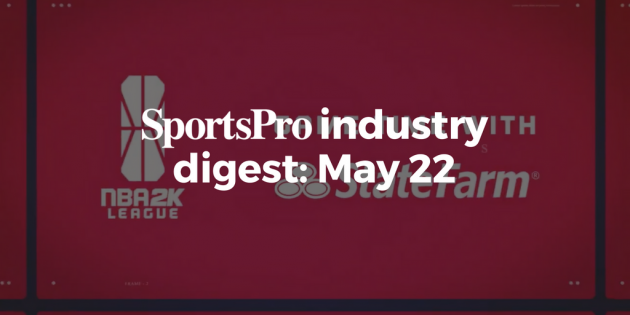 Top story
State Farm has become the first NBA partner to sign a separate deal to sponsor the new NBA 2K League.
The insurance provider is also the first non-endemic brand to sponsor the simulated basketball esports competition, with the league previously signing deals with four hardware gaming suppliers.
The length and value of the State Farm contract with the NBA 2K League has not been confirmed but it is reportedly multi-year and worth mid-to-high six-figures in US dollars.
The deal sees State Farm get virtual courtside signage during the next two regular-season tournaments and the NBA 2K League finals in August. It also gets presenting rights to pregame segments on the Twitch broadcasts with the clips also distributed on league social channels and on a weekly feature at nba2kleague.com.
"It's clearly an opportunity to complement our traditional sports opportunities, because the fan of esports is not always a stick-and-ball sports fan," said Ed Gold, State Farm advertising director. "At the same time, the demographics are significantly younger than most of the traditional sports, which is certainly appealing to a brand that wants to reach a younger audience."
The move furthers State Farm's investment in esports. In January the company became the first sponsor of Riot Games' reconstituted North American League of Legends Championship Series, and then in March signed on for the fifth season of the Rocket League Championship Series, run by Psyonix.
Sponsorship
In soccer, Campeonato Brasileiro Serie A outfit Cruzeiro have signed kit sponsorship deals with supermarket chain Supermercados BH, technology products retailer iPlace and home improvements retailer ABC da Construção.
Scottish top-flight side Motherwell have agreed a two-year sponsorship deal with Tullibardine, which sees the distillery become the club's official whisky partner.
The Lawn Tennis Association (LTA), the national governing body for tennis in Great Britain, has announced a new three-year partnership with fresh fruit and vegetable giant Del Monte. The brand will gain exposure at the series of pre-Wimbledon grass court tournaments, including the Fever Tree Championships at Queen's Club in London.
Hampshire County Cricket Club have announced a new three-year sponsorship deal with Utilita covering the team's white-ball campaigns. The British energy supplier's logo will feature on the back of the Hampshire's playing shirts as well as at key spots at the club's Ageas bowl home.
USA Cycling has signed a wide-ranging partnership with Halo Neuroscience to explore the brand's brain stimulation technology effects on athlete performance."
Mitsubishi Heavy Industries (MHI) has signed a strategic deal with Orient Golf, which sees Mitsubishi become the title sponsor of the 2018 China LPGA-Xiamen Orient Masters and the designated air conditioning partner of China LPGA for 2018.
Media Rights
Global sports provider Eleven Sports has announced that it will continue its live Premier League coverage in Taiwan after agreeing a new exclusive three-year partnership starting from the 2019/20 season.
Stand-up combat league GLORY has announced an extension of its broadcast deal with and Brazilian broadcaster Globo, to remain on the network's pay-tv Combate channel.
Personal Endorsement
Your Golf Travel (YGT) has re-signed former world number one Lee Westwood as an ambassador for a further three years.
West Indies cricket star Dwayne Bravo, who plays for Indian Premier League franchise Chennai Super Kings, is set to launch his own clothing line 'DJ Bravo 47' in India. The brand is co-owned by Bravo and Singapore-based celebrity apparel company 3 Big Dogs.
Investment
German soccer giants Borussia Dortmund have stated their intention to invest up to €20 million (US$23.5 million) upgrading their training ground. BVB managing director Hans-Joachim Watzke revealed the plans to Schwarzgelb.de, he said: "In 2010/11, we were the leader in Germany with our new training centre. But I now realise that other clubs are passing us by." The investments would add two new training courses, an athletics hall and a new office building.
UK racecourse owner and operator Arena Racing Company (ARC) has further enhanced its portfolio by acquiring Wales' Ffos Las Racecourse.
Agencies
Russian marketing agency SportConcept has agreed a deal to become the new official merchandise partner of the Ice Hockey World Championship in a three-year deal.
Australian Football League (AFL) club Port Adelaide has made further inroads into the Chinese market by forming a business to consumer platform as part of its new five-year partnership with real estate company Shanghai CRED that will look to drive opportunities for Australian businesses in China.
The University of Cincinnati has announced it has reached an agreement to extend its multimedia rights and licensing agreements with IMG through 2027.
In the US, Kennesaw State University athletics have signed a long-term partnership deal with Van Wagner Sports and Entertainment (VWSE), making VWSE the department's exclusive multimedia rights partner.
Bidding & Hosting
The Australian Baseball League (ABL) has claimed a first for the domestic sports market by announcing that it will add an international team from South Korea that will be based in Australia.
The International Ice Hockey Federation (IIHF) has awarded hosting rights to its 2019 World Championship Division I Group A to the Kazakh capital of Astana, with the event taking place at the Barys Arena.
Cheltenham will host a major snooker tournament for the first time in February 2019 when the World Grand Prix comes to The Centaur, part of the UK's famous Cheltenham Racecourse.
The new Alliance for American Football league will land one of its teams in Phoenix, Arizona, with the team to play in Tempe at Sun Devil Stadium.
Politics & Governance
The IIHF is to introduce a maximum term of 12 years for all Council positions within the sport's global governing body.
Common Goal of the Day
Fair play to Danish Superleague soccer club FC Nordsjaelland who have announced their entire club is committing to Common Goal, the charity initiative started by Manchester United's Juan Mata. The club announced they will be giving away one per cent of their total stadium revenues. Additionally, the entire ten-member management and backroom staff has pledged one per cent of their salary as has club chairman Tom Vernon. All players and administrative staff contracts include the same one per cent pledge with an ability to 'opt-out'.
Our industry digest will update throughout the day as deals break so check back to make sure you do not miss a story