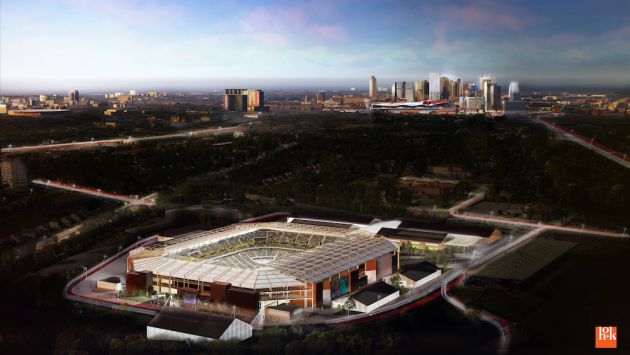 The Nashville Metro Council has voted to approve a financing plan for a new US$275 million soccer-specific stadium, boosting the city's hopes of landing a Major League Soccer (MLS) expansion franchise.
On Tuesday, the council voted 31 to 6 in favour of issuing US$225 million in revenue bonds for the stadium project, which is being spearheaded by lead team investor John Ingram with the support of Nashville mayor Megan Barry.
Nashville is among 12 cities currently vying for an MLS franchise, with the league expected to award two slots next month and two at a later date as it pursues commissioner Don Garber's target of having 28 teams by 2020.
Securing stadium financing is seen as critical for attracting MLS, which currently includes 22 teams and is due to add another in Los Angeles next year. David Beckham's Miami franchise is also expected to join the league imminently.
Tuesday's approval of the stadium financing plan puts Nashville, which began its pursuit of MLS as an outside bet, among the favourites to secure a team, alongside Sacramento, which already has a stadium deal in place.
"The Metro Council should be applauded for joining the majority of Nashvillians who say yes to Major League Soccer in Nashville," Barry said in a statement. "Their vote tonight puts Nashville in a very strong position to be awarded a franchise later this year by MLS."
The stadium deal, which faced opposition from local groups, calls for the MLS investment group to cover any cost overruns tied to new city infrastructure built for the venue, which will be constructed in Nasvhille's fairgrounds district in time for the 2021 season. The team will also have to pay for any construction budget overruns.
Under the plan, the team's owners will pay US$25 million up front and US$9 million a year over 30 years to offset the city's US$13 million annual debt brought about by the bond issuance. According to the Tennessean, sales and ticket tax revenue generated by the stadium will also be used for financing, while the city will cover the difference if revenue projections fall short.
Issuing the bonds is contingent on Nashville getting a team, which would begin play at a still-undetermined temporary location in 2020.
"Of course the final decision on the team won't be ours, but tonight Nashville checked off the final item that MLS needed to see," said Ingram, the majority owner of the Nashville Soccer Club, which currently competes in the second-tier United Soccer League (USL).
"I'm always proud of this city, and tonight we've shown — once again — how we all come together around something important to make Nashville the best it can be."
As well as Ingram, a local billionaire businessman, the Nashville investment group includes Mark, Zygi and Leonard Wilf, the majority owners of the Minnesota Vikings National Football League (NFL) franchise.