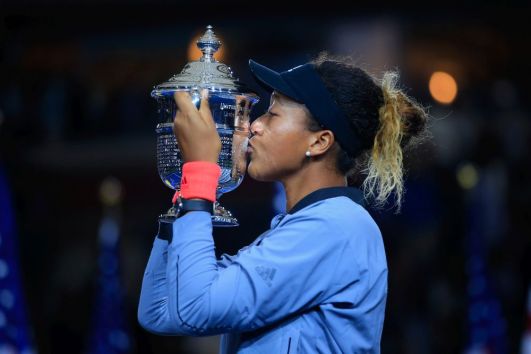 US Open ladies' champion Naomi Osaka is set to sign the biggest clothing deal in women's tennis on the back of her maiden Grand Slam title win at Flushing Meadows.
Osaka, who beat six-time champion Serena Williams in a match marred by controversy, is to make an estimated US$8.4 million through the new agreement with an as yet unnamed apparel brand.
Osaka's existing deal with German sportswear giant Adidas expires at the end of 2018, with the Japanese 20-year-old's marketability having rocketed in recent months even before she became the first Asian woman to both feature in and win a US Open final. Last week, Osaka was named 27th in SportsPro's 50 Most Marketable Athletes as a new entry.
Osaka, whose father is Haitian-American and mother is Japanese, is already set to receive bonuses for winning her first major through some of her existing sponsors. She currently endorses brands including Yonex, Citizen and Nissin Foods Group.
Her commercial representative at sports management company IMG, Stuart Duguid, told British daily newspaper The Times: "I saw [Osaka] at the Australian Open in 2016 against Elina Svitolina and the week before she played Hobart.
"She was under the radar and I thought she would be an unbelievable player with marketing potential through the roof."
Japan Prime Minister Shinzo Abe congratulated Osaka on Twitter after her victory, thanking her for 'giving Japan a boost of energy and excitement at this time of hardship.'
Osaka's straight sets triumph over Williams came amid angry scenes, with her opponent arguing with umpire Carlos Ramos in scenes that have made global headlines in the days since the final.
Meanwhile, Osaka became only the second ever Asian woman to win a Grand Slam tournament, following China's Li Na.