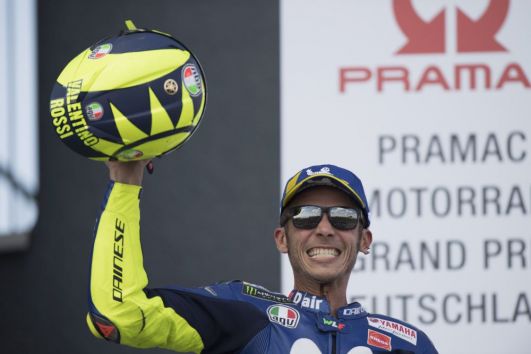 The MotoGP global motorcycling racing series has signed new deals with circuits in both San Marino and Germany to continue racing at the two venues.
Both countries had already been included on the provisional 2019 calendar revealed by bosses of the competition, but contract extensions at both Misano in San Marino and the Sachsenring in Hohenstein-Ernstthal confirm the news, ending speculation around the venue of the German race.
Misano, located in the province of Rimini, is the home race of seven-time world champion Valentino Rossi and has extended its agreement with MotoGP until at least 2021.
Carmelo Ezpeleta, chief executive of Dorna, the commercial rights holder for the motorcycling series, said of the news: "I'm delighted that Misano will remain a fixture on the calendar until 2021. We're very proud of this event and it's always one of the most incredible atmospheres of the year, so to confirm that we will continue racing here until 2021 is a pleasure.
"It's a true classic on our calendar. Today is an important day for us in Dorna, as well as for a Grand Prix that has taken on extraordinary dimensions thanks to the efforts of the promoters and the incredible passion the area has for our sport."
Meanwhile, there had been reports that the Nürburgring circuit might replace the Sachsenring venue as the location of the German event. However, the MotoGP announcement quashes the immediate prospect of the Nürburg track replacing Sachsenring.
Hermann Tomczyk, president of ADAC Sport, the German motorsport body, added: "Securing the German Motorcycle Grand Prix is a matter of the heart for us. We are delighted that, in partnership with ADAC Sachsen, the Grand Prix can take place at the Sachsenring next year and that together with ADAC Sachsen we can start a new era."