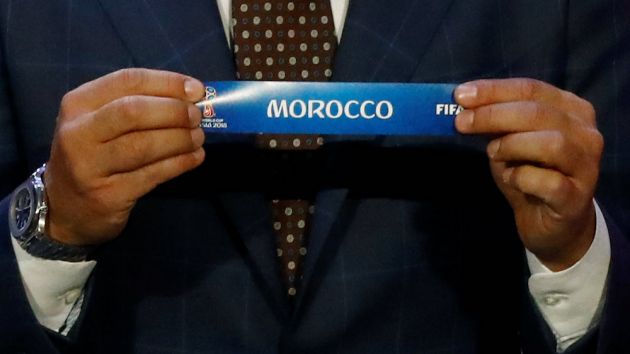 Morocco has formally launched its campaign to host the 2026 Fifa World Cup.
The North African country unveiled its bid team and campaign logo at a media event in Casablanca on Tuesday, as efforts to bring the global soccer showpiece to Moroccan soil for the first time continue to gather momentum.
Morocco's bid will be led by new chief executive Hicham El Amrani, the former secretary general of the Confederation of African Football (CAF). He will spearhead the effort alongside bid chairman Moulay Hafid Elalamy as the country challenges a joint bid from the United States, Canada and Mexico.
A tweet from the Morocco bid team's newly launched English-language Twitter account said El Amrani brings with him 'commercial, marketing and planning expertise, along with extensive experience of working within in elite football governance'.
Confirmation of El Amrani's appointment comes with the Morocco 2026 team preparing to set out plans for their bid, including potential host cities, ahead of a March deadline for formal proposals to be submitted to Fifa, world soccer's governing body.
Fifa members are due to select the 2026 World Cup host at their congress in Moscow on 13th June, the day before Russia and Saudi Arabia contest the opening match of this year's tournament.
"We promise to stage a tournament overflowing with real passion and to celebrate the values of unity and peace," said Elalamy, speaking at Tuesday's launch.
"A World Cup in Morocco will deliver commercial success and leave a long-lasting legacy and if we win the honour of hosting we believe the winners will be football, the young people of our nation, Africa and the world."
Having announced its intention to bid in August, Morocco is entering its fifth World Cup campaign having made unsuccessful attempts for the 1994, 1998, 2006 and 2010 tournaments. Earlier this month, the country's bid team appointed London-based Vero Communications to oversee their campaign strategy.
While the country is widely deemed to be the second-favourite in what is currently a two-horse race owing to its inferior infrastructure and less appealing corporate profile, it could yet receive the full support of African nations, who collectively represent some 54 of the 211 votes up for grabs.
The 2026 World Cup will be the first edition of the tournament to feature 48 teams, up from the current 32, after Fifa voted to expand the event last January.