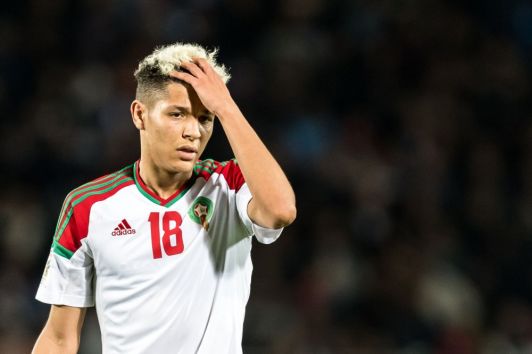 Fifa inspectors have labelled Morocco's 2026 World Cup bid as 'high risk' to the tournament due to a lack of infrastructure, while awarding North America's United bid a significantly higher score in an evaluation report.
Despite the low score, the Moroccan bid will now move on to the Fifa Council for final ballot approval for both candidates on 10th June in Moscow. The final vote at the Fifa Congress is three days later and will be decided by up to 207 soccer nations in a public vote where the inspection scores can be ignored in regard to deciding the destination of the sport's international showpiece.
Morocco could have been disqualified if it had scored less than two out of five in the overall average scoring, and less than two on key measures including stadiums.
Inspectors, who marked the joint bid from the United States, Canada and Mexico at 402 out of 500 and flagged Morocco's proposals on stadiums, accommodation and transport as high risks in a score of 275 out of 500.
The 2026 World Cup is the first tournament Fifa has confirmed will expand from 32 to 48 teams - putting increased infrastructure demands on the hosts to stage 80 games.
Moulay Hafid Elalamy, Morocco 2026 bid president, said: "We will now continue to present to voters our vision for Morocco 2026, and will aim to convince the majority of member asssociations to vote for our nation at Fifa Congress on 13th June.
"In the coming days, we will continue our mission to demonstrate to Fifa and the entire football family, our ability to deliver a highly profitable and truly authentic Fifa World Cup – one that will leave a lasting legacy for the world of football."
No part of North America's proposals was called high risk and Fifa said it "has a clear lead" to advance the governing body's mission to "push new boundaries in terms of sports-related technology and engagement" since stadiums and hotels already exist.
The North Americans scored the only maximum five mark from Fifa for its ticketing and hospitality plans, which helped drive a forecast revenue for the tournament of US$14.3 billion, a figure Morocco's bid team feel is unrealistic.
However, the lowest mark out of five for either bid in each of nine categories is 2.0 for the Americans' projected organising costs, which were driven up by having 16 stadiums instead of the minimum 12.
In 20 categories evaluated for risk, the North American bid had three medium-risk areas - government support, human rights and labour standards, and organising costs - and 17 low risk.
Morocco had the three high-risk sections, ten medium-risk - also including human rights and labour standards - and seven low-risk.
The North American campaign has been dogged by questions on the impact of policies from the Trump administration, including attempts to implement a ban on travel by residents of six majority-Muslim countries.
In appeals for votes last month, President Donald Trump said he would be "watching very closely" and issued a veiled threat to withhold US support from countries opposing the North American bid.