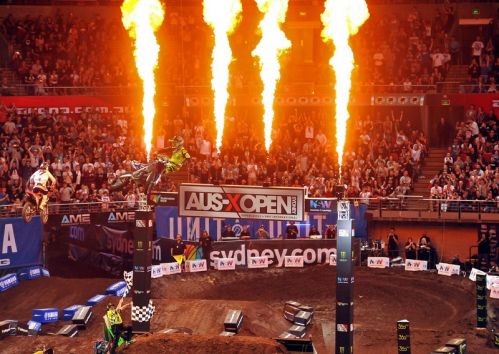 Monster Energy has been announced as the title sponsor of this year's AUS-X Open, Australia's largest supercross and motocross event, which is due to be staged in Sydney on 11th and 12th November.
The two-day competition will formally be known as the 2017 Monster Energy AUS-X Open Sydney. The deal will see the event's logo turned from red to Monster's trademark green, with the brand's own logo positioned above. The company will also benefit from a prominent presence across all marketing content.
The agreement upgrades Monster's association with the AUS-X Open, having previously served as a primary sponsor for the first two editions of the event in 2015 and 2016.
Ryan Sanderson, AUS-X Open Sydney co-founder and event director, said: "We're so stoked to have a massive global brand on board as title sponsor of the AUS-X Open and can't wait to start working with the team to bring our fans the ultimate action sports experience.
"Monster Energy has been with us from the start as a primary sponsor of the fan favourite Pit Party and the FMX 'Best Trick' competition. Therefore, the progression to naming rights partner is a perfect fit for both of us as we have the recipe to make the AUS-X Open an unmissable event on the global sporting calendar."
"Monster Energy has had a long-standing association with supercross and motocross riders and teams," addedMarianne Radley, Monster Energy's senior vice president of marketing. "Some of the sport's best riders, like Ricky Carmichael and Chad Reed, all run the iconic M-claw logo. To now be the title sponsor of the AUS-X Open is a natural move for us and we are excited about partnering with the largest action sports event in the Southern Hemisphere."