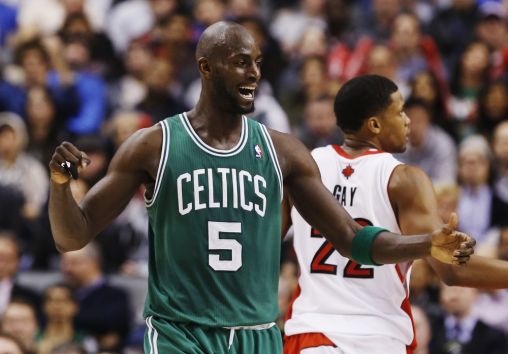 Basketball: 15-time National Basketball Association (NBA) All-Star Kevin Garnett has returned to US footwear and clothing company And1 for the first time since 2003. The 41-year-old, now retired, will serve as a global ambassador for the brand as it prepares to celebrate its 25th anniversary.
Football: The National Football League's (NFL) Arizona Cardinals are creating a new docu-series called Flight Plan, which will chronicle the team's off-season search for a new coach and quarterback, and will be available exclusively on Facebook's video-on-demand service Facebook Watch.
Horse racing: Jockey Club Racecourses, the largest commercial organisation in British horse racing, has appointed female jockey Bryony Frost as a group-wide ambassador. The 22-year-old will promote British horse racing through social media channels, media work, personal appearances and a regular blog.
More horse racing: Championship Horse Racing has unveiled 'The Series', a new multi-million pound horse racing competition in Britain, which would see 12 branded teams compete over eight weeks using a points system similar to that seen in motorsport's Formula One.
Soccer: Second-tier US soccer side the Phoenix Rising have confirmed the addition of Advantage Sports Union to their ownership group. The global company's chairman Alex Zheng, who is also an investor in French team OGC Nice, said he is hoping to bring his hospitality and tourism expertise to help the United Soccer League (USL) club achieve its Major League Soccer (MLS) aspirations.
More soccer: Top-flight Spanish soccer team SD Eibar have launched an academic partnership with the Free University of Brussels' International Football Business Institute to help students find a career in the professional soccer industry.
Rugby: Honda Ireland has been named as the official car partner of the Guinness Pro14 Final Series, the season finale of the top-tier rugby union competition for clubs from Ireland, Scotland, South Africa, Wales and Italy. The Final Series begins with the quarter-finals on 4th May 2018, with the final set to be held in the Irish capital of Dublin on 26th May.
Tennis: South Korean car manufacturer Kia Motors will be the Royal Spanish Tennis Federation's (RFET) official vehicle partner until 2021. The company already boasts Spanish great Rafael Nadal as one of its global ambassadors.
Golf: The PGA of America, which comprises nearly 29,000 professional golfers, has partnered with the Bradford Licensing agency for representation in the retail space in selected international markets.
More golf: US equipment manufacturer Wilson Golf has signed deals with nine golfers on the Challenge Tour, Europe's second-tier men's professional golf tour. The players are Richard Mansell, James Allan, Gary King, William Harrold, Jack Senior, Martin Ovesen, Victor Østerby, Joao Ramos and Juan Sarasti.
Motorsport: Ruoff Home Mortgage has agreed a deal with Andretti Herta Autosport to be the primary sponsor of Marco Andretti's number 98 entry for two IndyCar Series races, including the season-opener in St Petersburg, Florida.
More motorsport: Global filtration products manufacturer Wix Filters will be the official filter of Nascar team Stewart-Haas Racing. The company's branding will appear on the stock car racing outfit's vehicles during both the top-tier Nascar Cup Series and the second-tier Nascar Xfinity Series throughout 2018.
Even more motorsport: One Cure, an initiative from the Flint Animal Cancer Center at Colorado State University, will be the primary sponsor of Graham Rahal's number 15 for two IndyCar Series races this season, and will also be an associate sponsor for all other races in 2018.
Commonwealth Games: Brisbane's Nova 106.9 has become an official radio partner of Gold Coast 2018 after agreeing an exclusive sub-licensing deal to broadcast the Games locally.
Cycling: The International Cycling Union (UCI) has awarded the 2020 UCI Para-Cycling Track World Championships to Canada. The event will take place at the Mattamy National Cycling Centre in Milton, Ontario between 30th January and 2nd February 2020.