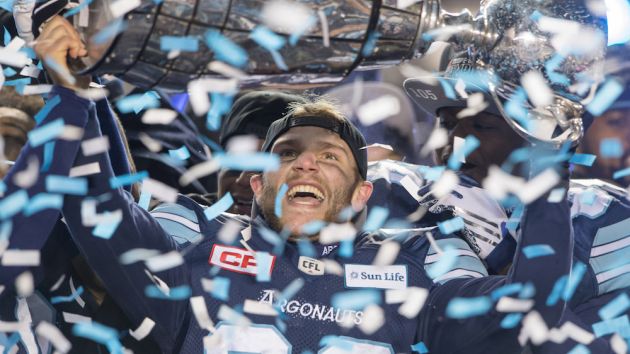 Maple Leaf Sports & Entertainment (MLSE) has struck an agreement to acquire the Toronto Argonauts of the Canadian Football League (CFL).
The deal with Bell Canada and the Kilmer Group, the team's current owners who both also part-own MLSE, remains subject to approval by the CFL board of governors, but it is expected to close next month. Financial terms have not been disclosed.
The Argonauts are the reigning CFL champions, having won the 105th Grey Cup last month to claim what was a record 17th league title. They play their home games at the MLSE-operated BMO Field, a waterfront stadium that also plays host to MLSE-owned Toronto FC, the recently crowned winners of Major League Soccer (MLS).
"Under its current ownership, a transformed Argonauts football club enhanced its presence and fan base in Canada's largest sports market and ultimately marched to the CFL championship," Michael Friisdahl, the president and chief executive of MLSE, said in a statement.
"We look forward to building on the Argos' strong momentum as we welcome the team to the leading provider of sports and entertainment experiences in Canada."
MLSE's other sports properties include the Toronto Maple Leafs of the National Hockey League (NHL), the Toronto Raptors of the National Basketball Association (NBA), the Air Canada Centre, the Toronto Marlies minor league ice hockey team, and Raptors 905, who play in the NBA G League.
Founded in 1873, the Argonauts are North America's oldest continuously operated professional football club and, according to the CFL, are the oldest pro sports team of any kind on the continent that still operates under its original name.
They have been owned by Bell Canada and the Kilmer Group, a holding company run by MLSE chairman Larry Tanenbaum, since May 2015. This week's deal essentially means Rogers Communications, which, like Bell, holds a 37.5 per cent stake in MLSE, is joining the CFL team's ownership group.
A CFL statement said joining the MLSE fold 'brings numerous advantages to the Argonauts, including financial scale and promotional, ticketing and other operational synergies.'
"Everyone at the Argos organisation is proud to have delivered the Grey Cup to our fans in what was truly a game for the history books," said the team's president and chief executive, Michael Copeland.
"It's been an exciting time of renewal and accomplishment for the Double Blue and I speak on behalf of all of us at the organisation when I say how excited we are to now be joining forces with MLSE, Canada's top sports company."