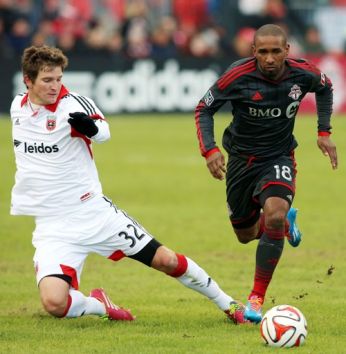 Major League Soccer has sold its domestic media rights to ESPN, Fox Sports and Univision from 2015 until the end of the 2022 season.
The agreements, which had been speculated upon for several weeks, mean that NBC's coverage of the league will come to an end.
The three broadcasters will share the key games, each taking a match of the week in their own slot: Univision on Friday evenings and ESPN and Fox back-to-back on Sunday evenings. Over 125 games will be shown live each season.
ESPN has broadcast MLS since its inception in 1996, while Fox was previously a league broadcast partner between 2003 and 2011. Each network will support the league with marketing and promotion, while MLS Direct, the league's out-of-market package, will be made available via ESPN3, ESPN's online service.
The deal also includes rights to US Soccer national team matches, with Fox Sports 1 and ESPN to split the English language rights to the approximately ten games the US team plays each year. They will also share women's games. Univision will broadcast all US national team games in Spanish.
The deal was officially announced on Monday. Earlier, SportBusiness Journal reported that ESPN and Fox will pay US$75 million per year on average for the rights. Univision is reportedly paying US$15 million annually. That represents a major uplift for Major League Soccer, which has received an average of US$18 million per season from its current deal with ESPN, Univision and NBC.
"We are honoured to partner with ESPN, Fox and Univision to form the most comprehensive US media rights partnership in the history of soccer in our country," said Don Garber, the Major League Soccer commissioner.
"The commitment from our television partners in terms of structure, length and magnitude is unprecedented, and these new partnerships are another strong indicator of the league's continued growth and the overall fan interest in our sport."
The deal is the latest shift in US soccer media rights. Although NBC is losing MLS, it has just completed its first season covering England's Premier League in the US, with its broadcasts receiving widespread plaudits.
This summer's Fifa World Cup, meanwhile, will be the last to be broadcast by ESPN before Fox takes over the rights to Fifa tournaments in the US from 2015 until at least 2022, the same period as its new MLS deal.
"We are extremely pleased to have extended our partnerships with ESPN, Fox Sports and Univision," added US Soccer president Sunil Gulati.
"The commitment made by our television partners to broadcast such a wide range and quantity of games demonstrates the growing demand for soccer in our country and provides a platform for our growing fanbase to follow the game both for club and country."