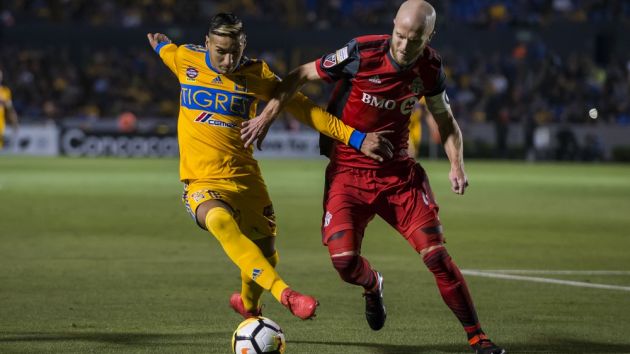 Major League Soccer (MLS) and Liga MX, Mexican club soccer's top flight, have agreed a long-term partnership that sees the two leagues collaborate to launch a new, annual competition designed to 'strengthen the sport in North America'.
The agreement brings together the three nations that form the United 2026 bid for the Fifa World Cup national team tournament [USA, Canada and Mexico] at club and league level, and will focus on creating a new competition to 'fuel the rivalry between the countries on the field', as well as sharing best practices and social responsibility efforts.
The new Campeones Cup competition will pit the reigning champions of the two leagues to crown the 'best club in North America'.
This year's inaugural edition will take place at BMO field, the home of reigning MLS champions Toronto FC, on 19th September. Toronto will represent MLS in the Cup, while the Liga MX entrant will be decided in July when Apertura champions Tigres UANL face the winner of the Clausura in the Campeon de Campeones match.
MLS and Liga MX will also consider organising further new competitions in future years, as well as additional showpiece events, including a commitment for a future MLS All-Star Game to include players from both leagues.
In addition, the Liga MX Under-20 teams will take part in the MLS All-Star Week as the annual opponent in the MLS Homegrown Game.
MLS commissioner Don Garber said: "Major League Soccer is proud to come together with Liga MX for this unprecedented partnership. Together, we have a vision to elevate the popularity of our game to even higher levels in North America.We are excited to have the MLS champion take on Liga MX's top club in the Campeones Cup this year and build further programs in the years to come."
Enrique Bonilla, president of Liga MX, added: "For Mexican soccer, accepting the invitation to this project is a fantastic opportunity to meet our vital goals with a long-term vision. First, it will allow us to grow closer to our fans in the United States and Canada, who are passionate about their Liga MX clubs. Second, it establishes a strategic alliance between the two leagues to exchange experiences and implement best practices throughout both organisations, which will organically assist the growth of soccer in the region."