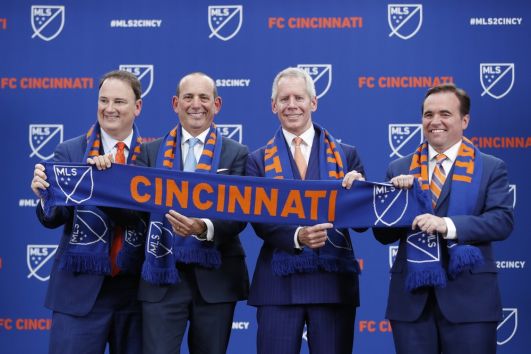 Cincinnati has been confirmed as the latest city to be awarded a Major League Soccer (MLS) expansion franchise.
FC Cincinnati, who currently play in the second-tier United Soccer League (USL), will join MLS in the 2019 season under the same moniker.
The club plan to play at their current home, Nippert Stadium, until 2021, when they plan to move to a new 21,000-seater venue in Cincinnati's West End neighbourhood. MLS said in an official release that the innovative stadium – coupled with FC Cincinnati's record-breaking attendances – played a big part in the decision to add the team to the league.
The move sees FC Cincinnati become MLS's 26th club. In the last year, the league has awarded expansion franchises to Nashville and Miami, the club owned by retired English soccer icon David Beckham.
"The rise of Cincinnati as a passionate soccer market in recent years, coinciding with the city's growing economy and reputation as a top destination for young professionals makes it an ideal city for our growing league," said MLS commissioner Don Garber.
The news also marks a rapid rise for FC Cincinnati, who only began playing in the USL in 2016 after being founded in August 2015.
"Cincinnati's selection by Major League Soccer for an expansion team is a triumph for the continued renaissance of this incredible city," added Carl Lindner, FC Cincinnati's managing owner. "I have to start by thanking the supporters of FC Cincinnati, because from the beginning they were the foundation of the efforts of our bid to join MLS.
"This has been a true team effort among the soccer fans, our partners and our civic and corporate leaders. This is a city with a historically deep relationship between the people and its teams, and we are going to take that to even greater heights in MLS."
MLS added that it will announce in the coming months which conference FC Cincinnati will be entered in.