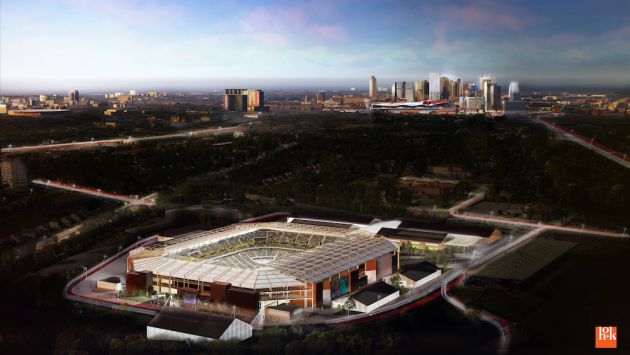 Nashville has officially been awarded a Major League Soccer (MLS) expansion franchise.
Confirmation of Nashville's approval came at an event held on Wednesday at the city's Country Music Hall of Fame. The event was attended by MLS commissioner Don Garber, along with John Ingram of Nashville Soccer Holdings LLC, Tennessee governor Bill Haslam, and Nashville mayor Megan Barry.
Ingram, a local billionaire businessman, is the majority owner of Nashville Soccer Club, who are set to join North America's second-tier United Soccer League (USL) in March of next year. The new Nashville MLS team is expected to join the league in 2020, although no timeframe has been given for its debut. It has also not been confirmed if the MLS franchise will replace the USL outfit.
As well as Ingram, the Nashville MLS investment group includes Mark, Zygi and Leonard Wilf, the majority owners of the Minnesota Vikings National Football League (NFL) franchise, and the Turner Family, managing partners of Nashville-based MarketStreet Enterprises.
While terms have not been formally disclosed, it is widely reported that MLS expansion fees currently stand at US$150 million.
"Nashville is a rising city with a passionate soccer fan base, a dedicated ownership group and civic leaders that truly believe in this sport," Garber said in a statement. "Nashville continues its ascent as one of America's most dynamic communities, with its incredible energy and creativity. For us, that makes it a perfect place for MLS expansion."
Nashville was among 12 cities to submit a formal expansion bid to MLS in January. It was then named as one of four finalists last month, alongside Cincinnati, Detroit and Sacramento, before its bid team made a final presentation to the MLS expansion committee in New York earlier in December.
Though an outsider at the beginning of the expansion process, Nashville's bid gathered momentum throughout the year, receiving a significant boost in November when the city's Metro Council approved a crucial financing plan for a new US$275 million, 27,500-seat soccer-specific stadium to be built in the fairgrounds district south of downtown Nashville.
"This is a landmark day for Nashville and for all of the loyal and ardent soccer advocates in our state and our region," said Ingram, the chairman of Ingram Industries Inc. "During the last year, with the support of our partners, the fans, and civic and community leaders, we were able to make a strong case for why Major League Soccer belonged in the great sports town of Nashville."
Nashville's effort was also helped by its rivals running into issues. Cincinnati has yet to fully finalise its stadium plans despite recently securing public support, although it does have both a solid, wealthy ownership group and a shirt sponsorship deal in place.
Sacramento's ownership group, which is spearheaded by lead investor Kevin Nagle, has been plagued by doubts concerning its finances, despite recently receiving the backing of Hewlett Packard Enterprise chief executive Meg Whitman and her husband, Dr. Griff Harsh.
As for Detroit, its bid is being fronted by billionaires Dan Gilbert and Tom Gores, the respective owners of the Cleveland Cavaliers and Detroit Pistons basketball teams. Both men bring strong business and sporting credentials yet their decision to designate Ford Field, the home of the Detroit Lions NFL team, as the venue for their proposed MLS franchise is believed to have worked against them.
The addition of Nashville, which already boasts pro football and ice hockey franchises, means MLS will expand to 24 teams, with 14 clubs having joined the league since 2004. Los Angeles FC are set to become the league's 23rd team next year while David Beckham's long-delayed Miami franchise is poised to debut in either 2019 or 2020.
A final decision on the fate of Cincinnati, Detroit and Sacramento is not expected until the new year. While two of those cities are set to miss out, both will be able to reapply during the league's next round of expansion, along with other interested parties in Charlotte, Raleigh, Tampa, Indianapolis, San Antonio, Phoenix, St. Louis and San Diego.