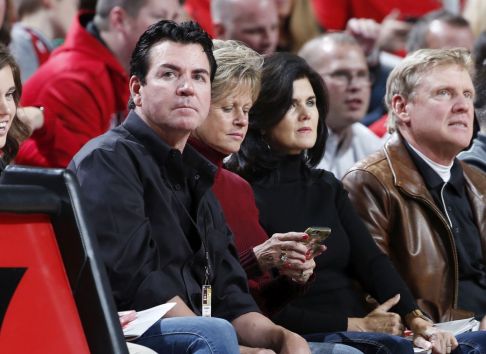 Major League Baseball (MLB) has indefinitely suspended its Papa Slam promotion with Papa John's following the escalation of the race controversy involving the pizza chain's founder John Schnatter.
Schnatter admitted to and apologised for using racial slur 'n*****' in a May training session, an event that became public Wednesday. In the aftermath, Schnatter announced his resignation as the company's chairman.
Now MLB is ending its relationship with Papa John's that began in 2016. The chain has been the title sponsor of the league's 'grand slams', a home run hit with all three bases occupied by baserunners. Known as 'Papa Slams' as part of the commercial tie-up, each one allowed baseball fans to get 40 per cent off orders at Papa John's the next day by using an online coupon code.
The most recent grand slam hit by the New York Yankees' Greg Bird in the third inning of Wednesday's game against the Baltimore Orioles was not celebrated as a 'Papa Slam' by MLB.
The racist incident was first reported by Forbes and later confirmed by Schnatter, who admitted to using the slur on a May conference call to downplay his past controversies by saying that Colonel Sanders — the founder of KFC — used the term.
He said: "Colonel Sanders called blacks n*****s," before complaining that Sanders never faced public backlash.
In a statement later issued by Papa John's, Schnatter said: "News reports attributing the use of inappropriate and hurtful language to me during a media training session regarding race are true. Regardless of the context, I apologize. Simply stated, racism has no place in our society."
Schnatter stepped down as chief executive, but remained on the board, last year in relation to a different controversy, when he blamed the company's declining sales on protests in the National Football League (NFL) during the national anthem.
MLB has become the latest US sports league to sever ties with Papa John's. The chain agreed to prematurely end its NFL partnership back in February, with Pizza Hut taking on the inventory shortly after.
Many MLB teams, such as the Chicago White Sox, have their own discount-based promotions with Papa John's outside of the Papa Slam promotion. Those types of deals are unaffected by MLB's decision to suspend Papa Slams but those franchises can decide whether to continue or suspend those deals.
The National Basketball Association's (NBA) Utah Jazz are also under pressure to end a similar deal with Papa John's.
Schnatter has also resigned from the University of Louisville board of trustees. Several members of the college's football team have called on Louisville to cancel its naming rights deal with the pizza chain that covers the Cardinal Stadium.