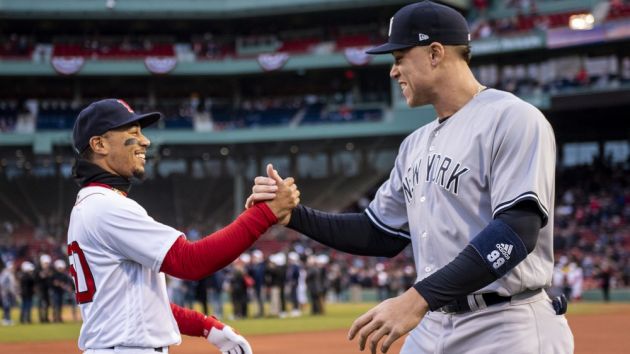 Major League Baseball (MLB) has confirmed that it will stage two regular season games in London in 2019.
Arch rivals the New York Yankees and Boston Red Sox will face each other twice at West Ham United's London Stadium on 29th and 30th June next year, which will mark the first MLB games to be played in Europe.
MLB has made a two-year commitment to London that will include another series in 2020, with participating teams to be announced at a later date. The league added that it will be launching a range of initiatives in an attempt to establish a footprint in the city.
The MLB London Series was announced by the league's commissioner Rob Manfred and Mayor of London Sadiq Khan alongside representatives from the MLB Players Association (MLBPA), the Yankees and the Red Sox.
The announcement confirms reports that first circulated in March, when Bloomberg and the Associated Press claimed that the North American league was closing in on a deal to stage a two-game series in the UK capital.
"Major League Baseball is excited to be bringing one of the most storied rivalries in sports to the passionate fans of London," said Manfred. "In our ongoing efforts to grow baseball, there is nothing as impactful as bringing live games and our talented players to fans. This is our most significant endeavour ever in Europe and we look forward to showcasing Major League Baseball in one of the world's great cities."
"I am absolutely delighted that we have secured this historic agreement for Major League Baseball to come to London in 2019 and 2020," added Khan. "All the hard work has paid off. There is no better way to start the London Series and the first Major League Baseball fixture in Europe than a clash between two heavyweights of international sport - the New York Yankees and the Boston Red Sox.
"This is a major coup demonstrating, once again, that London is the sporting capital of the world and I am excited about a new partnership with MLB and the long-term future of this sport in our great city."
MLB has previously staged regular season games outside the US in Mexico, Japan, Puerto Rico and Australia.
The matches in the UK will see MLB become the latest major US sports league to take games to London, with both the National Football League (NFL) and National Basketball Association (NBA) having staged regular season games in the city since 2007 and 2011 respectively.