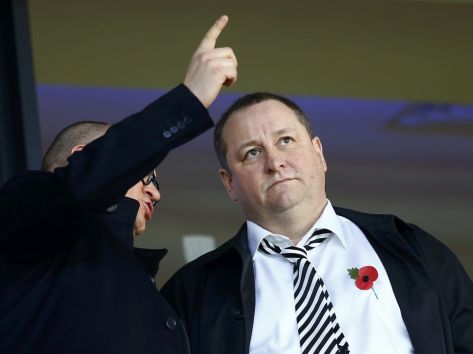 Mike Ashley, the owner of top-tier English soccer side Newcastle United, has put the club up for sale.
The 53-year-old, who first purchased the Premier League outfit in 2007 for approximately UK£134.4 million, wants to have the sale completed by Christmas, St James Holdings Limited confirmed.
The Londoner has been open to offers for the Magpies since the turn of the year, but instructed club officials to issue a public statement in a move which could be seen as an attempt to smoke out potential buyers.
The statement, which was released on Monday, read: 'As one of the Premier League's oldest and best supported football clubs - and for the benefit of its many fans and supporters in the UK and across the world - Newcastle United requires a clear direction and a path to a bright and successful future.
'To give the club the best possible opportunity of securing the positioning and investment necessary to take it to the next level, at what is an important time in its history, its present ownership has determined that it is in the best interests of Newcastle United and its fans for the club to be put up for sale.'
Ashley, who is the founder of British retailing group Sports Direct, has been a divisive figure during his time at St James' Park, with the club twice being relegated to the Championship, in 2008/09 and 2015/16, while fans have persistently protested against his ownership due to a perceived lack of investment.
According to the UK's Guardian newspaper, Ashley is understood to be holding out for an offer of UK£380 million. Although the team currently sit ninth in the Premier League with experienced Spanish manager Rafa Benitez at the helm, Ashley twice tried and failed to sell up in 2008 and 2009, and St James Holdings Limited has emphasised that it is willing to accept staggered payments with any incoming owner.
British businesswoman Amanda Staveley, whose Dubai-based private equity firm PCP Capital Partners was involved in Sheikh Mansour's purchase of Manchester City in 2008, is thought to be a potential suitor after being spotted in the directors' box at St James' Park during Newcastle's 1-1 draw with Liverpool earlier this month.
'To give an incoming owner the maximum possible flexibility to make meaningful investment in the club, including in its playing squad, the sale process will give interested parties the opportunity of deferring substantial payments,' the club statement added.
'A process will now commence of identifying new ownership for the club that will be capable of delivering the sustained investment in and dedication to the club that is necessary for it to achieve its ambitions.'