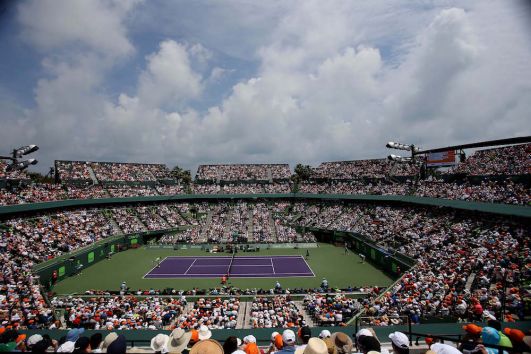 The organisers of the Miami Open tennis tournament have agreed a deal to relocate the event to Hard Rock Stadium, home of the Miami Dolphins National Football League (NFL) franchise.
The agreement, which still requires approval from Miami-Dade County commissioners, will see the event moved from its traditional home in Key Biscayne to the recently renovated, 65,000-seat stadium in 2019.
Local media reports say showpiece matches at the event, which doubles as a top-level tournament on both the men's and women's tours, will be held inside Hard Rock Stadium, with other matches taking place on adjacent grounds.
The Miami Open has been held in Key Biscayne, near downtown Miami, since 1987. The event's future had been in doubt since its promoters, International Players Championship, a subsidiary of IMG, had a request to upgrade the site rejected by an appeals court in 2015.
IMG had offered to pay US$50 million for the upgrades, arguing that expansion of the site was necessary in order to keep up with other, more modern facilities and tournaments.
Dolphins owner Stephen Ross had indicated that he would be interested in developing a new US$53 million tennis complex at the site of Hard Rock Stadium in order to keep the event in South Florida.
If the relocation agreement, which has the backing of Miami mayor Carlos Gimenez, is approved at a commission meeting on 5th December, next March will see the Miami Open, which draws 300,000 spectators each year, held at Key Biscayne for the last time.
Under the deal, Ross would be in line to receive US$1 million each year from the county commission, which agreed to pay up to US$5 million a year in bonuses for major sporting events held at Hard Rock Stadium as part of an agreement that saw Ross privately fund a US$400 million renovation of the venue in 2014.
According to the Miami Herald, the payments would begin in 2024, a year after the tournament's lease expires at Key Biscayne, and are expected to total US$13 million.
Additionally, a lease termination agreement has already been signed that would see the tournament organisers pay the county US$1.3 million and agree not to leave Miami-Dade for at least 20 years.