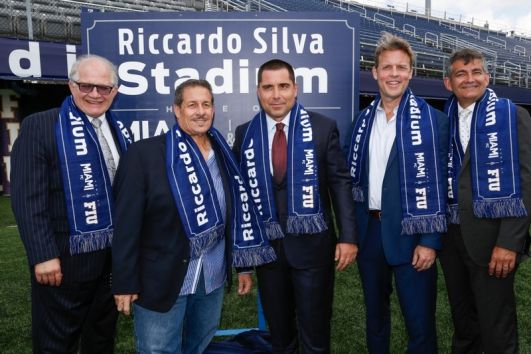 Florida International University (FIU) has agreed to rename its stadium in tribute to Miami FC co-owner Riccardo Silva.
From next season, the North American Soccer League (NASL) team will play all their home games at Riccardo Silva Stadium. The decision was made in recognition of Silva's contribution to FIU's sports department.
The 20,000 seater stadium has recently been fitted with an improved fibre-based playing surface, and video screen.
"FIU has been an amazing partner since we began working together with Miami FC," said Silva. "When I brought professional soccer to Miami last year, I never dreamed that the Miami FC would be playing in a stadium named after me. It's a huge honour of which I'm very proud and grateful for."
Pete Garcia, FIU's executive director of sports and entertainment, added: "It means a great deal to the department and illustrates the relationship we have built with Riccardo Silva. It is these type of gifts that help achieve our goal towards building world-class facilities for our student-athletes."
Miami FC, who finished fifth in last season's NASL, currently sit top of North American soccer's second-tier league after two matches.