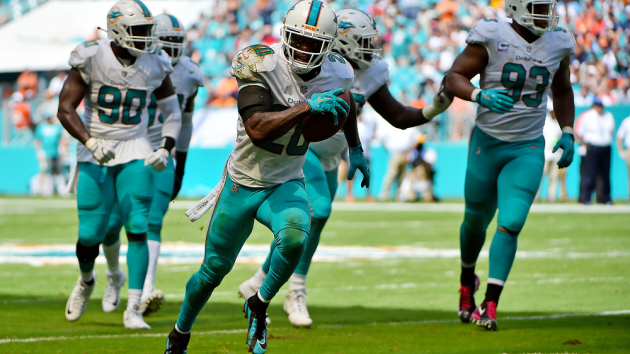 National Football League (NFL) side the Miami Dolphins have announced a new three-year partnership with global cruise line MSC Cruises USA.
The Switzerland-based cruise company is to provide fan activities at all the Dolphins' home games at their Hard Rock stadium, in addition to mobile phone charging stations and fan cruise experiences offering interaction with the NFL team's alumni.
Additionally, MSC Cruises will see its branding displayed by Dolphins' cheerleaders, who will sport MSC Cruises flags, as well as on stadium LED boards and across the team's social media channels.
"As part of a sharpened focus on the US market, MSC Cruises is gearing up to introduce the innovative new MSC Seaside to Miami, so it is only natural that we have decided to collaborate with an American institution like the Miami Dolphins, representing one of the most loved teams not only by Miami residents but also football fans throughout the US and worldwide," said Roberto Fusaro, president of MSC Cruises USA.
"MSC Cruises is redefining the future of cruising with next-generation ships such as MSC Seaside and appealing to a new audience in the US. Similarly, the Dolphins have made a significant investment in the design of Hard Rock Stadium, taking their game experience to the next level and setting a new standard as a global destination for world class entertainment."
"We are excited to partner with an innovative brand which has an authentic approach to hospitality like MSC Cruises to offer memorable experiences to our Miami Dolphins fans and family," added Miami Dolphins senior vice president Todd Kline. "We are committed to enhancing the fan experience, and this new partnership will bring several fun options for fans to enjoy at Hard Rock Stadium as well as at sea."
The Miami Dolphins compete in the NFL American Football Conference (AFC) East division, and finished second in 2016 before defeated 30-12 by the Pittsburgh Steelers in the first round of the season-ending play-offs. They have lost half of their opening four games in 2017, but beat the Tennessee Titans 16-10 on Sunday. They will take on the Atlanta Falcons away on the 15th October.