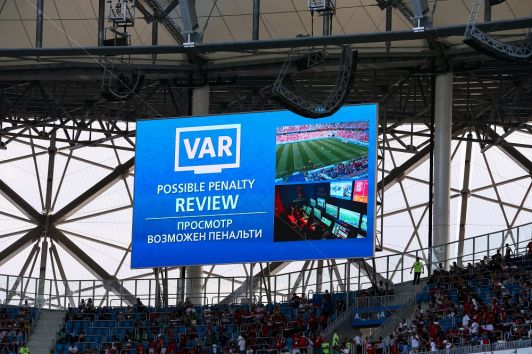 Spanish agency Mediapro has registered the 'VAR' phrase as a brand throughout Europe, according to a report by La Informacion.
The French news outlet said Mediapro first registered the video assistant refereeing brand in January, and received the green light on 31st May from the European Union (EU) Intellectual Property Office to use the VAR branding for ten years.
The registration has reportedly been granted in two versions, one featuring Mediapro's logo, and another without.
Brazilian sports news outlet Machina do Esport reports that there are at least six trademarks registered under the name VAR, though none of them has to with activities relation to video arbitration. They include a Dutch company using the acronym for a brand of cereal, and a Norwegian brand whose dairy products use the phrase.
La Liga has agreed a deal with the Spanish Football Federation (RFEF) to introduce VAR in the club soccer's top division from next season. Mediapro was selected to deliver the technology behind the system, with La Liga to bear responsibility for the cost of implementing it.
Mediapro will also be the official provider of VAR technology for Portugal's Primeira Liga for the next five seasons, carrying an investment on equipment and infrastructure of over €1 million, and has won the contract to provide VAR for the Liga MX, the top division of Mexican club football.
VAR is currently being utilised for the first time at a Fifa World Cup during the ongoing tournament in Russia.