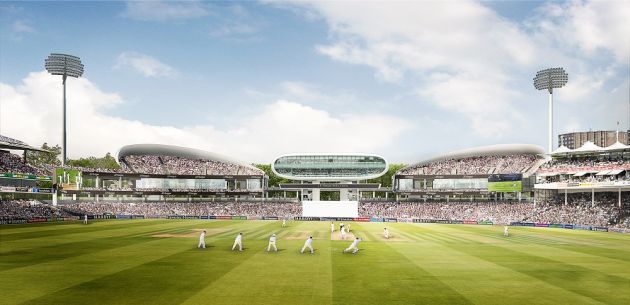 The Marylebone Cricket Club (MCC), owners of Lord's Cricket Ground, have unveiled the designs for the UK£50 million redevelopment of two new stands at Lord's cricket ground.
The new three-tier Compton and Edrich stands have been designed WilkisonEyre, which won the contract in January, with the firm also set to oversee the rebuilding project.
The partially-covered stands will accommodate around 11,500 fans at the Nursery End of the ground, and are due to be redeveloped between 2019 and 2021.
Their capacity will be increased by 2,500 seats, and a walkway linking both stands and overlooking the Nursery Ground will be introduced.
Spectator amenities will be upgraded with new catering and toilet facilities, wheelchair-accessible spaces and lift access at all levels, while the new additions to the ground will have debenture seating and restaurants in the middle tier. Three per cent of all seating will be for wheelchair users or those with restricted mobility.
The proposals form the latest stage of a US$270 million redevelopment plan of Lord's, which first began in 2015 and aimed to transform the facility into the 'finest cricket ground in the world'.
In 2017, Lord's opened the revamped two-tier UK£25 million Warner Stand that increased the venue's overall capacity and provided covered seating for fans.
The Compton and Edrich redevelopments are due to commence in 2019 if plans are approved by Westminster Council and MCC members.
MCC aim to have seating in the new stands in place for use during the 2020 season, with fully fitted-out facilities to be opened the following summer.
Guy Lavender, chief executive and secretary of MCC, said: "MCC is committed to ensuring Lord's remains the best place in the world at which to watch and play cricket. We are very aware of the responsibility we have to protect everything that makes Lord's so special, and we are delighted with the positive feedback we've already received from our membership."
Jim Eyre, founding director of WilkinsonEyre, added: "We are delighted to be working on this critically important project at Lord's which will transform the setting of the Nursery End and provide some great views of the cricket."