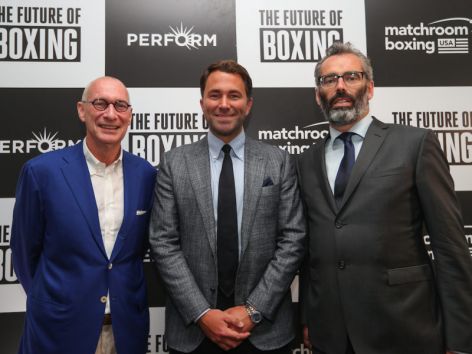 Matchroom Boxing and Perform Group have announced the creation of a landmark US$1 billion joint venture, claiming the deal as the biggest-ever in boxing.
The eight-year contract will see Matchroom Boxing USA stage 16 fights a year across the US with Perform Group's over-the-top (OTT) service, DAZN, serving as the exclusive American broadcast partner for those events plus Matchroom's existing 16 fight nights in the UK.
The deal ensures that none of those 16 UK fight nights will be on pay-per-view, with US viewers instead able to access them via DAZN's subscription model.
Eddie Hearn, managing director of Matchroom Boxing, and Simon Denyer, chief executive of Perform Group, announced the joint venture at a press conference in New York.
Hearn said: "This is a historic moment for Matchroom and the sport of boxing. Since our expansion to the US, we have been looking for a partner that shares our vision and that can give us the volume of dates and rights fees required to build the strongest stable in world boxing and take it to a new level.
"This is a dream scenario for us, we can build a formidable team of fighters and also put our stamp on events from production to talent to in arena experience. Our plan is to make DAZN the home of boxing and with 32 big fight nights already confirmed from the US and UK we are nicely on our way.
"America - we have well and truly arrived, let the fun begin."
Denyer, added: "I'm excited about working with Matchroom; we share the same passion and vision for reigniting boxing in the US and it's time for DAZN to provide an exciting new platform for these great events. It's a better deal for everyone – especially fight fans."
John Skipper, Perform Group's recent appointment as executive chairman said: "DAZN has already proven itself in Japan, Germany and Canada as the best platform for delivering great live sport to passionate fans. It's time to bring DAZN to America and the amazing events we have planned with Matchroom is a great place to start."
In the UK, Sky Sports has been awarded the rights to the 16 US Matchroom fight nights as part of a new, long-term deal.