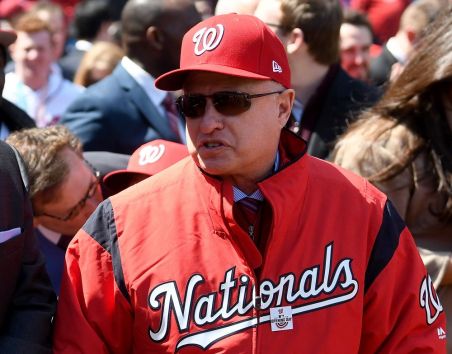 Mark Lerner's takeover as owner of Major League Baseball's (MLB) Washington Nationals has been confirmed by the league's owners.
Mark Lerner, 64, has been ceded ownership of the franchise by his father Ted Lerner, 92, who became the owner of the Nationals in 2006.
The transfer gives Mark Lerner voting power with MLB and is effective immediately after it was approved unanimously by the league's 29 other owners at the league's offices in New York on Thursday.
Since the Lerners bought the Nationals from MLB for US$450 million in 2006, there had been no clear path of succession for when Ted Lerner would step aside. The Washington real estate magnate governed by consensus with Mark and daughters Marla Tanenbaum and Debra Cohen, as well as Mark's wife, Judy, Marla's husband, Bob Tanenbaum, and Debra's husband, Ed Cohen.
However Ted Lerner was the ultimate decision maker, holding a veto vote on commercial and team issues. Mark Lerner said his father would still have input following the succession, but the family, who have no intention to sell the franchise, is preparing for a full transition.
"On a personal basis, obviously it's very exciting for me," Mark Lerner said in an interview before the vote. "It's something I have dreamed of since I was a little guy. But more importantly, the faith my parents have in me for them to do this at this time, it's very exciting in that regard."
"Twelve years ago, when Major League Baseball selected my family as the owners of the Washington Nationals, I could not have been happier," Ted Lerner added in a statement: "I always knew that someday my son, Mark, would take over my role as managing principal owner. That day has come. I look forward to watching him take the helm and help lead this team to a world championship."