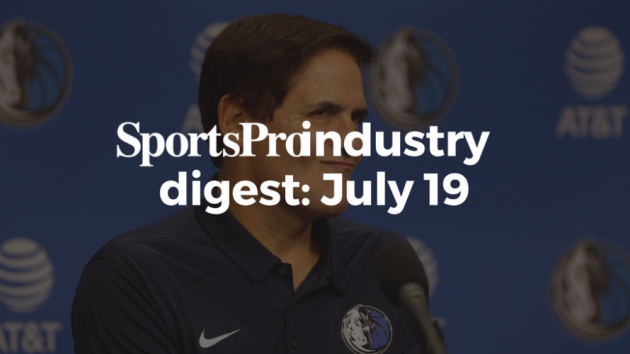 Top story
Dallas Mavericks' owner Mark Cuban, as well as former and current National Basketball Association (NBA) stars Steve Nash and Jeremy Lin, are they high profile investors in a new artificial intelligence (AI) basketball training app.
NEX Team has raised US$4 million for HomeCourt, an AI platform that tracks and analyses all basketball training aspects. The app is meant to allow players to work out the elementary flaws of their game, and is even being used as a recruiting tool by coaches of the college ranks
NEX Team chief executive David Lee explained: "We don't call ourselves a basketball company, we think of ourselves as a mobile AI company. We believed with computer vision, you can digitize a lot of different sports, one of which is basketball." Lee has expressed his hope to extend similar AI technology to other sports.
The basketball app gives a user feedback and measurements regarding their shooting form, vertical jump, and body positioning, but there are plans to extend it to other sports.
Sponsorship
Betting company Betway has become the official betting partner of Cricket West Indies (CWI) through 2019.
12BET has been announced as the official betting partner of the YONEX All England badminton tournament.
Mixed martial arts giant the Ultimate Fighting Championship (UFC) and Russian promotion M-1 Global have partnered to form UFC Russia, designed as feeder platform for the global series.
After 17 years of partnership, Lanson Champagne is set to continue as the exclusive Wimbledon champagne provider for another five years.
The Ladies Professional Golf Association (LPGA) has named American marketing platform MailChimp as its official marketing partner.
The National Football League's (NFL) Green Bay Packers have named telecommunications company US Cellular as its official wireless partner.
The International Hockey Federation's (FIH) 2018 Hockey Men's World Cup in India will feature Odisha Mining Corporation as an official parter for the event.
Brazilian soccer club Santos has reached an shorts sponsorship deal with higher education institution UniCesumar. The agreement will run through the 2019 season.
Staying in Brazil, Botafogo will sport the mark of Medicasp anti-dandruff shampoo on the sleeve of the team's kit in a short-term deal through August.
Cricket's Hero Carribean Premier League (CPL) welcomes Repsol as a sponsor for the 2018 edition of the league touranment, to be played in Guyana.
Italian soccer club Roma have signed a three year deal partnership with Italian food company La Molisana.
The Hero Carribean Premier League (CPL) has secured Repsol as a sponsor for the 2018 edition of the Twenty20 cricket tournament.
The PlayStation Fiesta Bowl has agreed an extension with the College Football Playoffs (CFB) to remain as semi-final for the National Championship for six more years.
United States Polo Association (USPA) will feature US Polo Assn as the official apparel outfitter and partner for all players in the 2018 Sentebale ISPS Handa Polo Cup.
Australian top-flight soccer side Brisbane Roar have finalised a two-year deal with air-conditioning company ActronAir to become the club's new shirt sponsor.
Media Rights
International combat sports media outlet the Fight Network has launched as free-to-air service in the UK on Showcase TV.
Personal Endorsement
National Basketball Association (NBA) star Dwyane Wade has signed a lifetime deal with Li-Ning, that sees the Miami Heat guard extend a contract first signed with the Chinese apparel company in 2012.
English golfer Oliver Wilson has become a brand ambassador for car dealer Lookers.
Arsenal youngster Alex Iwobi has signed up to become a brand ambassador for Nigeria's leading video entertainment company, MultiChoice Nigeria.​
Indian cricket legend Sachin Tendulkar has teamed up with English county cricket club Middlesex in order to launch a new scholarship-based global academy.
SmartSeries
English club giants Chelsea have launched a new fan engagement app. The 5th Stand, available on iOS and Android, will offer fans of the Premier League outfit videos, interviews, and other content.
Agencies
New Major League Soccer (MLS) club FC Cincinatti have hired global brand consulting firm Interbrand ahead of the team's inaugural 2019 season.
Politics and Governance
The 2022 Beijing Winter Olympics will debut seven events: women's monobob, men's and women's freestyle ski big air, mixed gender short track speed skating relay, team ski jumping, team aerials, and a cross snowboard cross event.
Italian soccer clubs Parma and Chievo Verona face potential relegation from top-flight Serie A over respective investigations regarding match-fixing and false transfer accounts.
Environmentalists of the Day
Italian soccer giants Juventus have followed fellow Adidas clubs Manchester United and Real Madrid in going environmental with their latest kit release. The Old Lady's third kit for the upcoming season is made entirely of recycled ocean plastic, aligning with the goals of Juve's partnership with Parley for the Oceans.
Our industry digest will update throughout the day as deals break so check back to make sure you do not miss a story