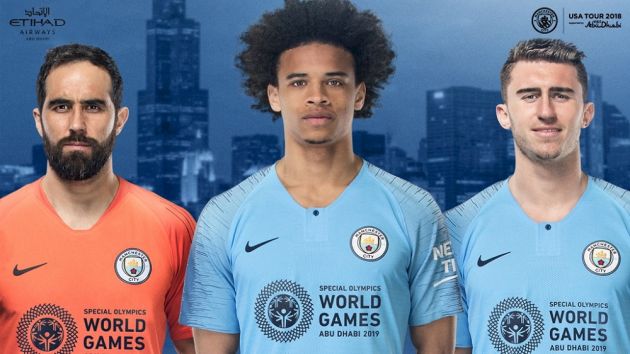 English soccer champions Manchester City have announced a new one-game shirt sponsorship deal for their summer tour friendly clash with Borussia Dortmund.
Under the terms of the contract, the club will replace their current Etihad Airways branding with the Abu Dhabi 2019 Special Olympics World Games logo for their International Champions Cup fixture at the Soldier Field stadium in Chicago on 20th July.
Etihad Airways, the national airline of the UAE, which has served as City's main partner since 2009, is the official airline of the World Games being hosted in Abu Dhabi in March next year.
The Special Olympics World Games will see more than 7,000 athletes from more than 170 countries compete when it takes place in the Middle East and North Africa region for the first time, and is expected to attract up to 500,000 spectators, which would make it the largest global event to be held in the UAE capital.
Commenting on the deal, Khalfan Mohamed Al Mazrouei, managing director of Special Olympics World Games Abu Dhabi 2019, said: "Inclusion and integration of people with intellectual disabilities is a priority for the UAE leadership and has been backed by legislation and comprehensive support for people with intellectual disabilities and their families.
"The support of partners such as Etihad has been invaluable in ensuring we are able to spread the Special Olympics message far and wide and we would like to sincerely thank them for their support."