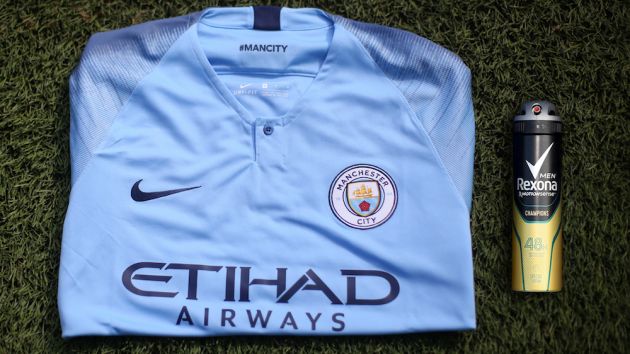 Manchester City have announced a new global partnership with Unilever-owned anti-perspirant brand Rexona, as the club prepare to defend their Premier League title.
The multi-year deal sees Rexona become City's official personal care partner and also includes their sister Major League Soccer (MLS) club, New York City FC. Financial terms of the agreement have not been disclosed.
As well as Rexona, Unilever will use the partnership to promote its Sure and Degree brands - the trade names for Rexona in the UK and US respectively - in certain markets.
The company plans to roll out Rexona, Sure and Degree products with special City-branded packaging, while all three brands will appear at the club's Etihad Stadium.
"Like Manchester City, Rexona has over 100 years of experience as well as a great pedigree of working with sports organisations and athletes throughout its history," said Damian Willoughby, the senior vice president of partnerships at City Football Group.
"We are excited to welcome these brands to the City family and look forward to working with them over the coming seasons."
City begin the defence of their Premier League title with an away trip to Arsenal on Sunday. For a full rundown of the new sponsorship deals signed by every Premier League club this summer, check out SportsPro's comprehensive 2018/19 commercial guide.