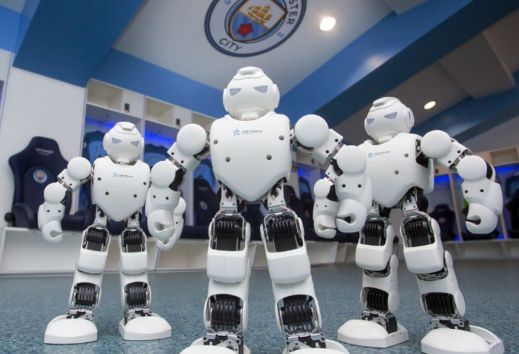 English soccer giants Manchester City have extended their global partnership with robotics company Ubtech.
The agreement, which the club claims to be the only one of its kind in world sport, will see Ubtech Robotics continue as the Premier League champions' official robot partner.
Since the partnership first commenced in 2016, the robotics firm has produced a range of content, including the Alpha 2 robot 'signing' for Manchester City as a new squad member. The robots have also taken part in matchday entertainment, both inside the Etihad Stadium and outside the ground. As part of the extension to the deal, Ubtech's Cruzr robot is likely to be used at home fixtures, providing fans with information.
The deal will also see Ubtech and City continue to work in the local community, offering educational programmes to local children. During the 2017/18 season, the partnership delivered coding lessons in Manchester schools. Following the success of the scheme, Ubtech and the City Football Group (CFG) will be expanding these classes into Melbourne and New York – the cities of City's sister clubs.
Damian Willoughby, senior vice president of partnerships at City Football Group, said: "This is a truly unique partnership that has provided entertaining content between fans, players and robots that has been enjoyed around the world.
"We look forward to working with Ubtech further over the coming years and are excited to further explore the relationship between football and robotics."
Zhou Jian, founder and chief executive at Ubtech, added: "In the past two years, through a combination of sports, entertainment and artificial intelligence, we have joined forces to explore a new way of innovation. As a professional and innovative team, Manchester City is a natural fit for us."
On the field, Manchester City have kicked off their Premier League campaign as they finished the previous season, sitting top of the table after two games.